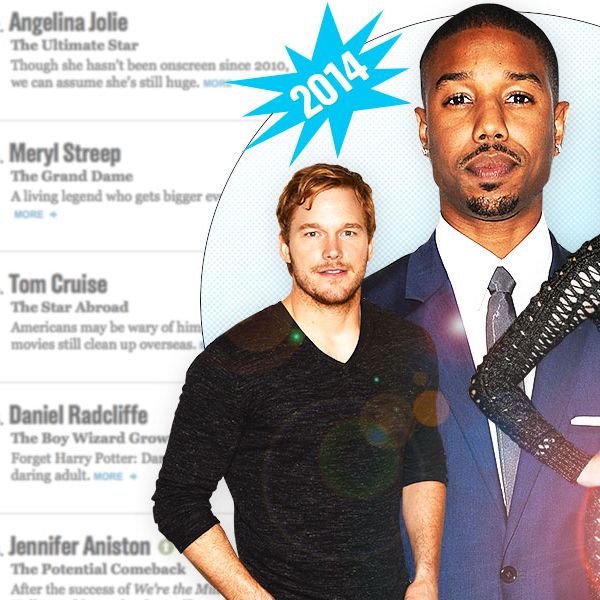 Photo: Maya Robinson and Photos by Getty
Are you still fuming that your favorite actor (or swoon-worthiest Tumblr crush) didn't make Vulture's Most Valuable Stars list? Never fear: There's always 2014! Several up-and-comers just barely missed out on the top 100 this year, and if they make next year's list, they may well be joined by a few more soon-to-be-big names who'll see their star power surge in the months to come. Can any of the following ten performers — who include one screen songbird, two of this year's likely Oscar nominees, and three budding superheroes — make 2014's freshman class? Cross your fingers, suggest a few names of your own, and check back next year.
Anna Kendrick
Kendrick very nearly made the top 100 this year, a remarkable turnaround for an actress who'd won critical raves and an Oscar nomination for 2009's Up in the Air, but hadn't been able to find a new vehicle to capitalize on that momentum until last year's sleeper hit Pitch Perfect. Universal is hoping to get a sequel to the a cappella film into production as soon as possible, but Kendrick has actually shot two more musicals since — the star-studded Into the Woods and romantic two-hander The Last 5 Years — that prove she's finally found her niche. (Fronting an unexpected pop song sensation in "Cups" didn't hurt, either.)
Michael B. Jordan
Jordan already has two acclaimed TV series under his belt in The Wire and Friday Night Lights, but it wasn't until this year's Fruitvale Station that he got a big-screen spotlight, to boot. The Sundance hit got him plenty of press, Oscar buzz (which seems to have been drowned out by the big fall movies), and suddenly he's a hot casting prospect, with one sure thing on the way (Apollo Creed, a Rocky spinoff that would reteam Jordan with his Fruitvale director Ryan Coogler), one hotly rumored comic-book role (he's widely assumed to be playing the Human Torch in the Fantastic Four reboot, which will be helmed by his Chronicle director, Josh Trank), and two potential projects that would make him an instant A-lister: the sequel to Independence Day, where Jordan has been batted around to play Will Smith's son, and the next Star Wars movie, which he's known to have auditioned for. If he can snag either of those last two films, there's no stopping him.
Shailene Woodley
Could the incredibly talented Woodley become our new YA princess? She already put in a touching performance in this summer's literary adaptation The Spectacular Now, and next year she's the lead in Hunger Games wannabe Divergent, as well as the romantic weepie The Fault in Our Stars. (She also shot a Gregg Araki indie, White Bird in a Blizzard, for good measure.) It's amazing that a former teen star like Woodley can remain so tangibly open-hearted and earnest — both on- and off-screen — but that's what should take her all the way onto on our list.
Chris Pratt
Would anything make you happier than to see Chris Pratt surge into the top 100 next year? His potential breakthrough will come in August when Marvel rolls out the big-budget Guardians of the Galaxy, a darkly comic space epic that will surely be the studio's riskiest venture yet. But to judge from the footage I saw at Comic-Con, the movie could prove as transformative for Parks and Recreation scene-stealer Pratt as Iron Man did for Robert Downey Jr., since the movie seems built from the ground up around his comic sensibility. And if Parks and Rec ends, Pratt's got the perfect big-screen launchpad.
Chiwetel Ejiofor
A veteran British actor who's turned up in movies like Children of Men, Kinky Boots, Serenity, and Love Actually, Ejiofor delivers a staggering, sure-to-be-nominated performance as the lead of 12 Years a Slave. Will Hollywood now offer the 36-year-old actor the big roles he's more than ready for? Next up for Ejiofor is the Nigerian drama Half of a Yellow Sun and Craig Zobel's Z For Zachariah, where he'll star alongside Amanda Seyfried and Chris Pine in the story of a teenage girl who survives an apocalypse and falls in love with a lone scientist; in an encouraging sign for Ejiofor's career, he's the one playing the scientist, not Pine.
Margot Robbie
We know, we know… who? Unless you watched the short-lived ABC show Pan Am — or caught this Aussie actress on her Down Under soap Neighbours — you've likely got no idea who the 23-year-old Robbie is. But casting directors not only know Robbie, they compete to land her, giving the young beauty "next big thing" status. She's supposedly a scene-stealing breakout in Martin Scorsese's The Wolf of Wall Street, and off of that film, she earned the female lead in the Will Smith con man comedy Focus, a part that plenty of A-list actresses had been in the hunt for.
Kevin Hart
It took Hollywood a little while to figure out what to do with Kevin Hart, but this red-hot comedian already has legions of fans, as evidenced by his Twitter buzz, which exceeds literally everyone's on this year's Most Valuable Stars list. Hart has already impressed with his high-grossing stand-up comedy films, and his ascent is reminiscent of a young Chris Tucker — in fact, he'll be paired with Ice Cube (as Tucker once was for Friday) on the upcoming action-comedy Ride Along. That one could make him a leading man, but in the meantime, look for him to add support for the Stallone–De Niro boxing movie Grudge Match (he's got more big moments in the trailer than either of those elders) and Think Like a Man Too, the sequel to his surprise 2012 rom-com hit.
Aaron Taylor-Johnson
The 23-year-old is considered one of Hollywood's most promising actors under 25 (admittedly, when it comes to the young men in that age range, there ain't a whole lot of competition), but after lead roles in Kick-Ass and Savages, he's about to move to a much bigger class of blockbusters: Taylor-Johnson has the lead in next summer's actually promising Godzilla reboot, and he's one of two new characters added to the team for The Avengers: Age of Ultron. Meanwhile, his wife, Sam Taylor-Johnson, will be directing Fifty Shades of Grey. Are they now Hollywood's most unusual power couple?
Lupita Nyong'o
Likely to be Oscar-nominated for her very first film role ever, the tragic slave mistress Patsey in 12 Years a Slave, Lupita Nyong'o has made quite the impression. "Think about where she goes from here!" her co-star Sarah Paulson told the Huffington Post. "It's like, 'Come on, lady, you've got like 10 movies in your future that are not going to be as good as this, no matter how good they are. Just so you know. Then you'll have another great one.'" On a certain level, Paulson is right: It's certainly going to be hard for Nyong'o to reach this high of a watermark again, at least anytime soon. But A-list auteurs would be foolish not to snap up the youthful-looking 30-year-old, who's also revealed herself to be a budding style icon on the red carpet.
Dakota Johnson
Will Fifty Shades of Grey make stars of its two leads, or simply haunt them for the rest of their careers? By this time next year, we'll know … assuming, of course, that the movie still makes its original August 1 release date after all its recent casting drama subsides. But here's a mark in the favor of Dakota Johnson, who'll be playing the potential franchise's sexually inexperienced heroine: She's a genuinely good actress who was picking up plenty of parts (on the short-lived but well-loved Fox sitcom Ben and Kate and in the upcoming movies Need for Speed and Cymbeline) before she was ever attached to this sex epic. Should it become a genuine hit, who knows what could happen?