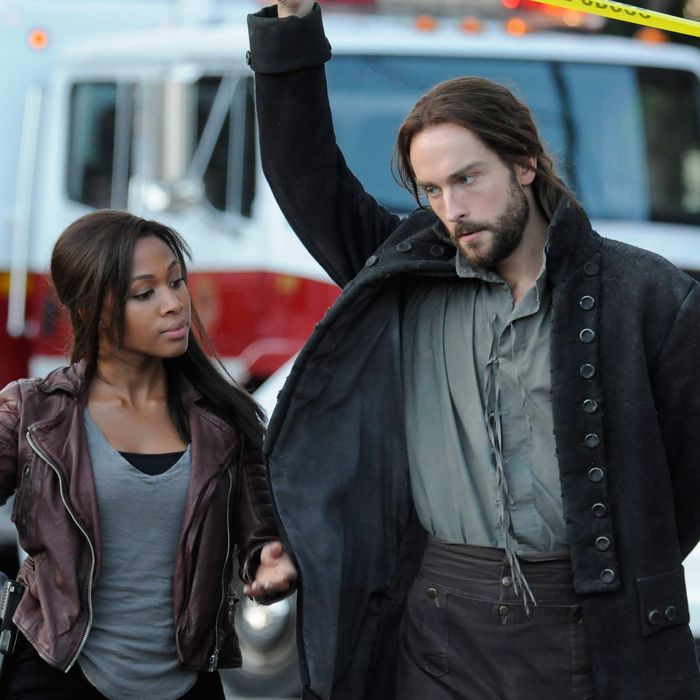 Photo: Brownie Harris/FOX
The 2013–14 broadcast TV season is still young, but it already appears to have yielded three new drama successes: NBC's The Blacklist, ABC's Agents of S.H.I.E.L.D., and Fox's Sleepy Hollow. It's not hard to figure out why the first two are drawing relatively big audiences. S.H.I.E.L.D. is a spinoff of the hugely popular Marvel film franchise, while Blacklist airs directly after one of TV's biggest hits (The Voice) and features a big-name film star (James Spader) to boot. By contrast, Sleepy Hollow (which airs its fifth episode tonight at 9) launched without any major advantages: It's based on a not particularly hip short story from 1820, features no recognizable stars, and airs behind the modestly rated, nine-year-old Bones. And yet last week, Nielsen same-day data showed Sleepy attracting nearly the same rating among adults under 50 (a 2.8) as Blacklist (3.1) and scoring slightly more viewers (8 million) than S.H.I.E.L.D. (7.9 million). It's also outperforming established Fox hits such as New Girl and The Following, and now ranks as the network's top-rated scripted series. Not surprisingly, Fox has already ordered a second season of Sleepy. So just how in the Washington Irving did this underdog of a show end up one of the fall's biggest hits? We put Sleepy under a microscope and came up with four possible reasons:
Like Once Upon a Time, it's a genre show that doesn't feel like a genre show. 
Sleepy seems like the kind of show only a Comic-Con attendee could love: It's about a Revolutionary War soldier named Ichabod Crane (Tom Mison) who, after a two-century slumber, awakens in the 21st century and immediately begins fighting demons and monsters alongside a sexy female cop (Nicole Beharie). Oh, and it takes the legendary headless horseman and turns him into one of the Bible's four horsemen of the apocalypse. But rather than a highly dense, mythology-laden sci-fi fantasy, the first four episodes have played like a small screen National Treasure (but with better acting). Bad things may be happening all around the characters on Sleepy, but the show never feels gloomy or ponderous, like, say, Revolution. Co-creator and executive producer Alex Kurtzman says this is all by design. He and longtime writing partner Roberto Orci produced Fringe for Fox, and while that show had an extremely passionate fan base, it was a relatively small one. "There's an audience out there for genre, but with Sleepy Hollow, we wanted to broaden the show out so you didn't have to be a genre fan to watch," he says. "We learned a ton from Fringe."
The biggest lesson can been seen in how the show has been structured: Kurtzman and his fellow producers opted to make sure each hour was at least partially self-contained. "From the beginning, we designed a show [where] there's a case every episode with a monster, or a supernatural problem, and they have to solve it," he explains. That doesn't mean Sleepy is aiming to be the Law & Order of fantasy thrillers. It is not a strict procedural. "While there will be resolution week to week, the characters need to have an emotional line that carries on throughout," Kurtzman says. "They're not going to have an emotional experience one week and then forget it the next. We're going to be building on something throughout the course of the show." One other thing which will remain consistent from episode to episode: Crane's wardrobe. He's been wearing the same ratty 18th century garb he wore in the pilot. "One of our rules is that Ichabod can never be comfortable," Kurtzman says. "The minute he looks comfortable, the story loses steam." That said, a future episode will deal with the matter of why Crane hasn't yet hit the Gape:  "We will be addressing that very soon," he says. "But we're not eager to take his clothes off."
It's not afraid to embrace the crazy.
In her review of the Sleepy Hollow pilot, Huffington Post TV critic Mo Ryan minced no words in summing up the hour: "It's bonkers," she wrote. And how! The opening act played with time travel, biblical prophesies, witchcraft, demonic possession, conspiracy theories, and an epic romance (between Ichabod and his maybe-not-dead wife) that's survived two centuries. As Ryan also noted, Sleepy totally owns its multiple personalities. In that way, it is not unlike another current megahit, ABC's Scandal. While that show wasn't a direct inspiration for Sleepy, Kurtzman doesn't reject the comparison. "I love hearing that," he says. "That's great. We don't see soap operas on television as being a bad thing; we see it as being a great thing. It's been the substance of television for so long. We respect it, we appreciate it and we want to infuse that into our show." But while there may be hints of Scandal in Sleepy's tone, and fragments of The X-Files in its structure, it's another TV classic that Kurtzman is hoping to evoke with his latest series: Twin Peaks. "It's hands down my favorite show in the history of television, right up there with The Twilight Zone," he says. Specifically, Kurtzman and his fellow creators "loved the idea of this small town that looks very much like Peyton Place on the outside, but is harboring all these deep secrets just beneath the surface," just as in Sleepy Hollow. "And Twin Peaks was a total soap opera, in the best way." While it might seem hard to top the sheer number of WTF moments of the pilot, Kurtzman vows the show will not let up its kitchen-sink approach to plotting. "It's definitely going to get crazier," he says. "I mean, a lot crazier."
It was born outside the traditional TV development factory.
The original kernel of an idea for Sleepy Hollow didn't come from Kurtzman and Orci or any of the usual TV suspects. Instead, the show was borne out of a pitch by Phillip Iscove, whose IMDb entry before Sleepy Hollow … didn't exist. The Toronto-born Iscove, 33, was working as an assistant at Hollywood talent agency UTA last year when he thought up his twisted take on the Irving tale. His UTA bosses thought the idea sounded like a TV show, so they helped Iscove set up meetings with various production companies around Hollywood, including the one run by Kurtzman and Orci. "If he had come in and just said, 'Hey, let's do 'Sleepy Hollow' the TV show, I don't think anyone would've been interested, because it's been done before, and done very well," Kurtzman says. "But his idea was so crazy and wonderful." After snagging the rights to Iscove's idea, Kurtzman and Orci immediately brought onboard director Len Wiseman (Live Free or Die Hard); the four men then went about the work of fleshing out the concept. Within a few months, Fox Entertainment chairman Kevin Reilly had committed to filming a pilot for Sleepy, well before a script had been written. The fact that Sleepy originated from someone who'd never sold a TV show obviously isn't directly responsible for drawing viewers to the show; most members of the audience have no clue who any of the producers are (though Kurtzman and Orci do have a fan base from Fringe and the Star Trek movies). Nor does it somehow mean that networks and studios ought to start buying up tons of pitches from untested scribes. But Iscove's amateur status might help explain why Sleepy feels so fresh, even though it's based on a very familiar story. And perhaps the show's success might inspire network suits to be a bit more open to outsiders. After all, Iscove's not the first total novice to create a hit TV show. CSI creator Anthony Zuiker was a tram driver at the Mirage in Las Vegas when he dreamt up what would become one of the biggest drama franchises in TV history.
The limited order has helped focus the storytelling.
Unlike CBS's Hostages or Fox's own The Following, neither producers nor Fox have gone out of their way to hype the fact that the show's first season has always been scheduled to run a cable-size thirteen episodes. There's been no promise of some resolution at the end of season one. But Kurtzman says knowing he only has to churn out a baker's dozen of hours has made it much easier to keep up the aggressive pace set by the pilot. "It's great for us, because inevitably, no matter how hard you try, when you're doing 22 episodes there are always those that feel like they're transitional episodes, like they're bridging between the big story," he says. "And now, we can approach this [so that] every episode can be like a finale. You can really go there, and there's no fat on it. You're not dragging things out or risking fans saying, 'Eh, you're stringing me along.'" Interestingly, Kurtzman said the idea of limiting the episode count for season one came from Fox's Reilly. "He said, 'I just think thirteen feels right,'" he says. "It was a huge relief because it meant we weren't going to have to spin our wheels." Kurtzman says Fox hasn't yet said anything about the idea of expanding the episode order for season two. "So far, they haven't asked for more," he says. "Personally, my vote would be for thirteen."