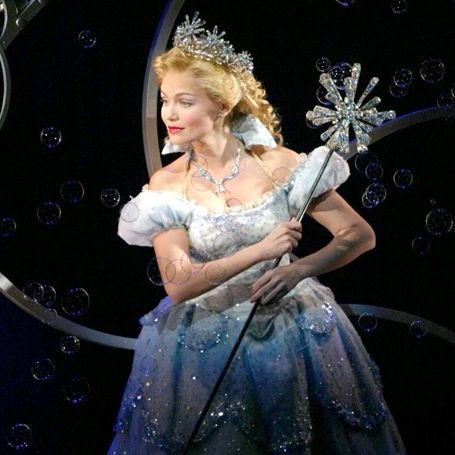 It's not clear if anyone expected the hit Broadway musical Wicked to last very long. The show opened ten years ago today to so-so reviews and lost the coveted Best Musical Tony Award to scrappy underdog Avenue Q. It easily could have petered out and closed after a respectable run. Instead, it became one of the highest-grossing shows of all time, making legends of stars Idina Menzel and Kristin Chenoweth, and introducing a legion of young fans to musical theater.
Wicked wasn't the first musical to garner a rabid young fan base, but it was a pioneer in appealing directly to a market that had been historically underserved on Broadway: teenage girls. The show's combination of poppy theater tunes, multifaceted female characters, slapstick comedy, romance, and girl-friendly themes like overcoming insecurity made it an ideal show for young women to connect with and obsess over. And if teen girls have perfected anything, it's the art of obsessing. I speak from experience: When the Wicked cast recording was released, I mainlined it like a hard drug for months. I know the score better than I know some of my first cousins. There's no better time to revisit a classic than an anniversary, so it's time to get real about which songs hold up and which don't.
14. "Finale: For Good (Reprise)" / "No One Mourns the Wicked (Reprise)" / "I'm Not That Girl (Reprise)"
The reprise is a hugely useful dramatic device in musical theater, functioning as an indicator of character growth or plot development at key moments in a show. Reprises are also universally skipped over on cast albums. Anyone who picks a reprise as his or her favorite song is (a) lying, and (b) the worst kind of jerk.
13. "Something Bad" / "Dear Old Shiz" / "March of the Witch Hunters" / "No One Mourns the Wicked"
The second level of skip-ability is devoted to those exposition-heavy nuggets that pad out of the rest of the score. They're useful and important, obviously. They're great when you want to listen to the whole album; sorta boring when taken out of context.
12. "One Short Day"
I don't have strong feelings about this song. Does anyone?
11. "I'm Not That Girl"
Pure fluff. With a different backing track, it could be a low-key number on a Demi Lovato album. The number of songs on the recording devoted to the love triangle between Elphaba, Fiyero, and Galinda is not quite proportional to its importance onstage, but hey, unrequited-love songs are easier to digest than the lengthy sociopolitical screeds that dominate the show's source material.
10. "Wonderful" / "A Sentimental Man"
The excellent Joel Grey makes his Wizard into an endearing, Disney-fied field mouse of a man, rosy cheeks and "Aw, shucks" attitude masking his darker intentions. Both songs are slightly less whimsical when sung by mere mortals.
9. "As Long As You're Mine"
I've seen Wicked four times and I've never not laughed during this second act duet between Elphaba and Fiyero. It's almost impossible to take seriously, and not just because the Über-eighties electric bass accents and power drums make it sound like a deep cut from a misguided Andrew Lloyd Webber–Elton John collaboration. It halts the show's dramatic momentum at a pivotal point, leaving the actors to sit downstage and clutch at each other melodramatically. Not awful, but on its way there.
8. "Dancing Through Life"
It's surprisingly easy to forget that the inimitable Norbert Leo Butz originated the role of dreamboat prince Fiyero, but here he is, singing about eschewing responsibility like any good Norbert Leo Butz character should. "Dancing Through Life" is one of those seven-minute centerpiece songs in which a lot of plot and a lot of melody jostle for attention, but there are a number of great moments, such as Galinda trying to pawn off an ugly black hat on Elphaba. "You deserve each other, this hat and you," Galinda sings to Elphie, unconvincingly. "You're both so … smart?"
7. "What Is This Feeling?"
A delicious introduction to Elphaba and Galinda's mutually antagonistic relationship that smartly capitalizes on the tendency of young women to find perverse glee in picking on each other. This song is a sneak-attack earworm: You'll be minding your business one minute and humming loudly about loathing the next.
6. "Thank Goodness"
The character of Galinda is one of Wicked's best assets and has been since the show's earliest workshops, when she was featured so prominently that she often overshadowed Elphaba. Whatever paring down of the Galinda part occurred en route to Broadway, she still wound up with this lovely second act opener in which she tries to reassure herself that the things she worked so hard to achieve have succeeded in making her happy. (Spoiler alert: They haven't.)
5. "The Wizard and I"
The "I Want"–iest of "I Want" songs, this one shot to the top of every girl's audition repertoire overnight and, by extension, became the show's most obnoxious tune. Its earnestness is important in establishing Elphaba as a likable heroine, but there are only so many times you can hear it performed badly at a cabaret before the charm wears off. And I'm still not sure whether to be impressed or exhausted by Schwartz's slant rhyme of "degree" with "verdigris."
4. "No Good Deed"
A powerful eleven o'clock number that rarely gets the acknowledgment or respect it deserves. "Was I really seeking good?" Elphaba asks herself. "Or just seeking attention?" Menzel really goes for it on the recording, handling the abrupt time signature and dynamics changes with a respectable level of control.
3. "For Good"
"For Good" isn't a particularly inventive piece of songwriting. Stephen Schwartz has never been one to shy away from metaphor in his lyrics (remember "Like a crab on a slab at the bottom of the sea" in Pippin?), but he's comically heavy-handed here; between comets pulled from orbit, boulders in streams, and seeds dropped by birds halfway through the wood, this song almost collapses under the weight of flowery schmaltz. That it doesn't is a credit to how well the show builds up the friendship between Elphaba and Galinda. Composers, take note! Earned emotion can excuse all manner of lyrical sins.
2. "Popular"
Chenoweth probably never thought she'd find a song that showcased her vocal and comedic talent as well as "My New Philosophy" from You're a Good Man, Charlie Brown, but then came "Popular." Like Chenoweth herself (not to mention the character she's playing), this ode to the importance of being admired is bubbly and refreshingly self-aware. That yodel-y catch in the title lyric is a masterstroke. (Again with the bizarre rhyming, though. Pairing "frank analysis" with "personality dialysis" takes some guts.)
1. "Defying Gravity"
The crown jewel of the score and the only logical choice for the No. 1 spot. It's an easy one to mock since it's so ripe for acrid belting and silly embellishment, but "Defying Gravity" does everything a great musical theater song is supposed to do. It slyly builds on melodic leitmotifs planted earlier in the show, then raises the stakes for Elphaba by raising her up an octave vocally and up on a cherry-picker physically, where she embodies for the first time the pop-culture icon we remember. Even at my snarkiest, I can't deny the power of that moment.
Like the rest of the show, "Defying Gravity" is a hair overblown. But it keeps 'em in their seats for the second act, and it most certainly is the secret ingredient that keeps teen girls coming back night after night, year after year. The version on the recording is probably the least compelling in existence, especially for those of us who tired of Menzel's strained belt sometime around 2007. Thankfully, YouTube is a treasure trove of bootleg recordings of contemporary divas making this one their own. One listen to the defiant "It's me!" sung by a powerhouse vocalist like Saycon Sengbloh or Stephanie J. Block and it's no surprise that this show made it to its tenth birthday.