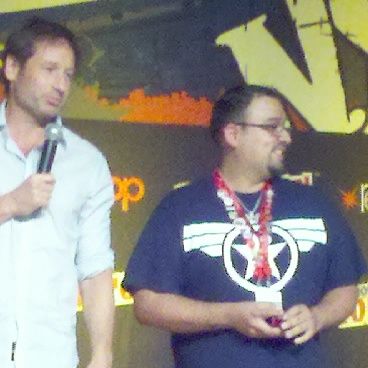 The last question posed during the X-Files reunion panel at New York Comic Con on Sunday wasn't really meant for David Duchovny or Gillian Anderson – instead, a surprise marriage proposal was offered to a special someone in the audience.
Although 30-year-old paralegal Miguel Acuna from Elmsford, New York, had already discussed his desire to wed his girlfriend of the past two and half years with her friends and family, he realized that there were two all-important people in her life that he wanted to clear it with before he popped the question. After all, 26-year-old Morgan Childs, a stationary sales rep from North White Plains, New York, had turned him on to The X-Files at the beginning of the relationship, and she's such a mega-fan that she had a giant "X" from the show's logo tattooed on the back of her neck.
As the X-Files actors on stage discussed the romantic side of Mulder and Scully (which we'll tell you all about in our forthcoming panel recap), Acuna saw an opportune moment. He begged the NYCC staff to give him a place in the Q&A line, and flashed a diamond ring to show what he was planning. "Last question," the moderator announced. "Make it a good one!" an audience member yelled out.
"What I got from the show was how important it is to have a really good partner," Acuna began. "Someone who challenges what you think, sometimes thinks the complete opposite, sometimes thinks the way you do, and will always support you. So with that, I actually have a request and a question. The request is if I could have your blessing, and the question actually is to my girlfriend," he said, as the crowd erupted with applause, "Will you do the honor of marrying me?" Childs jumped up and embraced him. "Is that a yes?" Acuna laughed.
"I think what we should do," Duchovny said, "you asked for our blessing, you guys should come up here!" Acuna and Childs, who was wiping away tears, each got hugs from the X-Files stars. "Let's wish Miguel and Morgan a long and happy life!" Duchovny told the cheering crowd.
A still-crying Childs told Vulture after she got off the stage that the proposal was "a total shock," even though the couple had talked about the idea of marriage "in passing."
"I was told she had no idea, but I've been ring shopping for a while," Acuna told us. "My parents knew, her parents knew, everyone knew. That's my sister hugging her right now. Morgan's been a fan for twenty years, so today was huge. I was so lucky they let me cut the line. If they didn't, I don't know what I would have done." Geek love – is anything more adorable?