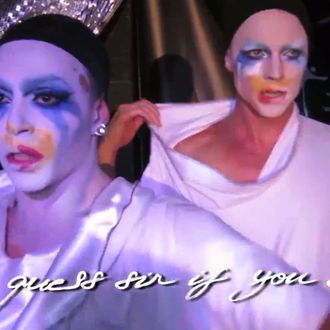 Lady Gaga's "Applause" - a nominee.
Photo: LadyGagaVEVO/Youtube.com
Though we hoped this wouldn't turn out to be real, YouTube is moving forward with its first-ever music awards (dubbed "YTMA"), releasing a list of nominees Monday night for the Nov. 3 event. Held at Pier 26 in New York City that Sunday – and simulcast over their own video streaming service, naturally – YouTube's nominees include expected artists like Lady Gaga, Macklemore & Ryan Lewis, and Justin Bieber. This being the Internet, though, there are also sections like "YouTube Breakthrough – artists with biggest growth in views and subscribers" and "YouTube Phenomenon – songs that generated the most fan videos" in the mix. That spawned weird matchups, like the Obama vs. Romney Epic Rap Battles Of History video going up against Selena Gomez, and "Gangnam Style" battling it out with ThePianoGuys submission "Titanium/Pavane." Seems like it's going to be a tight race, so don't forget to cast your votes for this bit of Internet history right over here.