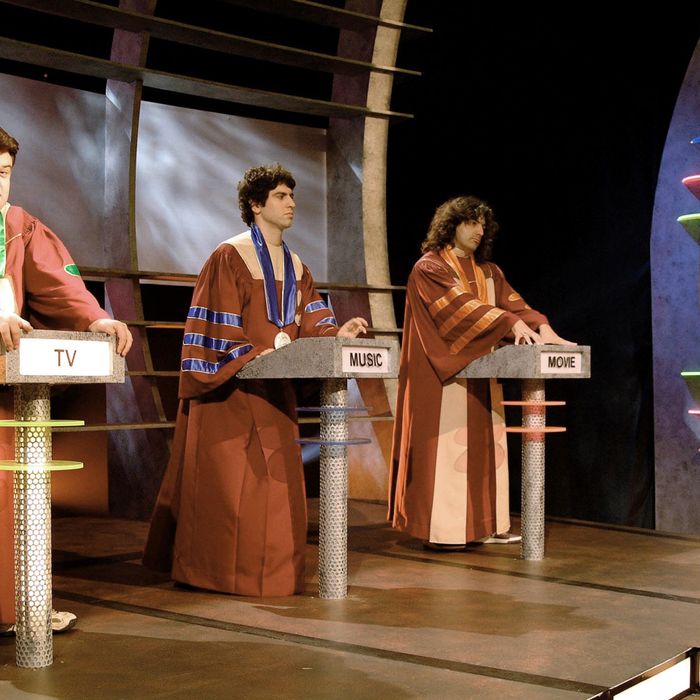 TCDBETH EC029
Photo: Comedy Central/Courtesy Everett Collection
Not every television game show can be a Jeopardy! or a Wheel of Fortune, seemingly permanent fixtures of the television landscape. Not every game-show catchphrase can be "Come on down!" or "Is that your final answer?" Tons and tons of game shows have come and gone over the years, and some of them seem to be forever lost to the sands of time. (Which itself could be a game show, maybe with a giant hourglass of some kind? Just spit-balling … ) But here are ten wonderful and less wonderful game shows we'll never let you forget about.
Contraption (Disney Channel, 1983–1989)
Honestly, it's surprising more studios don't have game shows like this: Contraption revolved around clips from Disney movies. Kids watched snippets from films and then answered recall and comprehension questions based on the footage — and then engaged in odd physical challenges, sometimes involving tricycles. There's absolutely no reason this couldn't be a show today, either for kids or for grown-ups.
Bumper Stumpers (USA Network, 1987–1990)
Contestants sounded out words and phrases written in idiosyncratic license-plate spelling. ("OAAS" is "oasis," for one insane example.) It's hard to imagine vanity plates as weird as the ones made into puzzles on Bumper Stumpers, but given the rise of text-speak, maybe the show was b-4 its time.
Couch Potatoes (syndicated, 1989)
One of the seemingly dozens of shows Marc Summers hosted during the eighties and nineties, Couch Potatoes pitted two teams of TV nerds against each other. Given today's passion for nostalgia, why not revive an eighties show to quiz people about nineties television? We're sitting on a goldmine here, folks.
Trashed (MTV, 1994)
Before he became the go-to host for 9,000 TV shows about assorted geekery, Chris Hardwick was the host of MTV's Singled Out. But before that, he was the host of Trashed, a vaguely Remote Control–ish show where contestants' personal items were destroyed if they didn't answer pop-culture questions correctly. It only aired a few episodes, alas.
Idiot Savants (MTV, 1996–97)
The show only ran for a few months and had the unusual setup of bringing back the same contestants every day for a week. There was the even more unusual setup of having contestants pick their own areas of expertise, such that the final round (for whoever made it that far) was a quiz catered to their "savant category." True story: A teenage me vowed that I would go on this show and my category would be Melrose Place, and I was legit devastated when the series was canceled and it became clear that I'd have to find another way to show off my Melrose knowledge.
Don't Forget Your Toothbrush (Comedy Central, 2000)
Marc Curry hosted the short-lived U.S. version of this British import, which combined trivia with goofy physical challenges. Contestants were plucked, by surprise, out of the audience, and the top prize was a trip; the winner had to depart immediately. Warning: This clip is a little racy.
Mall Masters (GSN, 2001)
Why not set a man-on-the-street game show in the Mall of America? Weirdly, even though the show aired in 2001, the top prize was only $5,000, which might help explain why the series, hosted by Chris Harrison, only ran for a few months (and is so obscure I can't even find a clip of it).
Beat the Geeks (Comedy Central, 2001–2002)
Contestants faced off against designated pop-culture geeks: Movie Geek, Music Geek, and TV Geek were the standards, but in the second season, that list expanded to include Horror Geek and Comic Book Geek, among others. Shouldn't GSN have revived this by now? Asleep at the wheel, present-day geeks! (And if you need a Melrose Place Geek, call me.)
Smush (USA Network, 2001)
Smush was the portmanteau-building advanced version of Wheel of Fortune's Before and After category. It's a fun enough game when it's part of a bigger show — like the present-day Hollywood Game Night— but maybe not enough to sustain a whole show. (R.I.P., frequent game-show host Ken Ober.)
Stump the Schwab (ESPN, 2004–2006)
Civilians tried, mostly in vain, to outsmart in-house ESPN statistician Howie Schwab. The World Wide Leader in Sports has tried a few times to launch trivia shows, and Schwab is probably the most successful — and it wasn't very successful. There must be a way to have a good sports trivia TV show, mustn't there?