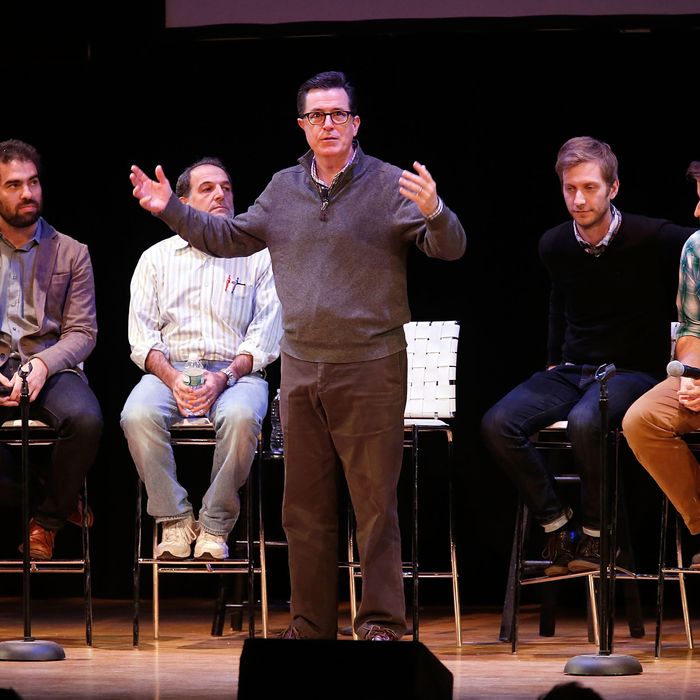 Photo: Jemal Countess/Getty Images
Last night, the New York Comedy Festival held a Q&A with Stephen Colbert and The Colbert Report writing staff. In between a fan showing Colbert her tattoo of his signature and little kids asking questions, the team explained how they make the show every night. Over the course of 90 minutes, Colbert and the staff also revealed a slew of fun facts, such as how dogs can smell when Colbert is in character, what Colbert misses most about The Daily Show, what it was like working with Henry Kissinger and Maurice Sendak, and more. Here are eight highlights:
The one cute joke Colbert most wished could've made it on air but didn't was about Daft Punk.
Even before Viacom wouldn't let Daft Punk appear on The Colbert Report, the group had a lot of rules. First they wouldn't perform and then they said they wouldn't talk. So the show wrote a bit in which Colbert talks to their manager with the two Punks in helmets next to him. Colbert: "And I go, 'How do I even know that that's Daft Punk in the helmets? They won't talk and they won't do the song …' And the line we wrote for him was, 'If that wasn't Daft Punk, they'd be doing the song.'"  
Dogs know when Stephen Colbert is in character.
Colbert executive producer Tom Purcell explains that the best proof that Stephen Colbert is different from "Stephen Colbert" is through dogs. The show allows the staff to bring their dogs to the office, and a lot congregate on the third floor, so when "Stephen's in character walking down that hallway, the dogs go crazy — they hate him." However, "When he's sort of gentle, nice regular Stephen they like him fine."
Stephen Colbert on the Maurice Sendak interviews.
Maurice Sendak agreed to do Colbert after years of trying to get him on the show. But before he said yes, Colbert wanted to talk to him on the phone: "I need to know just how altacocker this guy is." He said that Sendak spent the first few minutes just trying to figure out what button to press, despite there being no button for him to press, as they were already connected. Sendak finally came on the phone, apologizing for taking so long to figure out what button to push. To which Colbert replied, "Oh, take your time." Sendak: "I'm 83. Death looms." Colbert: "Maurice, keep it light." 
Colbert called it the "greatest phone call [he] ever had." He added, "I hope that interview was as good as the twenty minutes I had with him over the phone, because I got off the phone with him and said, 'I think that's what humans are like!' We're so good at protecting ourselves and how we actually feel about anything. Maurice Sendak reminded me what human beings are like: We're fascinating. We just don't let other people know, but he did. Completely unguarded person, who was not without crafting his answers. He really just didn't care what you thought it."
Colbert admitted that the last of the eight segments they aired with Sendak was "so moving and so touching" that he couldn't watch it or have them play it while they were shooting the episode.
The one joke Henry Kissinger wouldn't do.
When they brought Henry Kissinger on for Guitarmageddon, he was pretty game, reading whatever was on the teleprompter. However, one joke crossed the line. Colbert said that they wanted something to explain why Kissinger would agree to do this "and the line was [as Kissinger] 'Where are my pancakes? I was promised pancakes.'" To which Kissinger quickly said, "No, this is too much."
There weren't always, but there are now trapdoors underneath the desk for when people pop up or when Colbert needs props.
And the most people they had underneath at one time was four. 
What Colbert misses from not being on The Daily Show.
"When I was at The Daily Show and I would be at the desk with Jon … to keep myself from laughing, I would often say, 'Can I make Jon laugh?'" He added, "My favorite thing was trying to crush him. That's the one thing I miss. I miss being at the desk with Jon." 
Colbert's favorite reoccurring bit is "Cheating Death with Dr. Stephen T. Colbert, D.F.A."
"I love the side effects. 'Side effect may include Brain-tooth.'"
"I actually like Morning Joe."
"It's maybe my favorite news show to have been on."