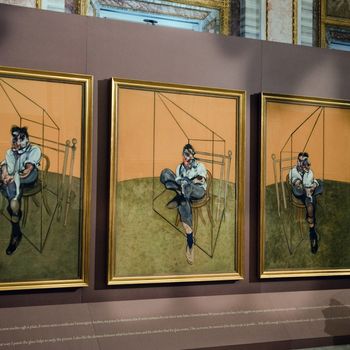 Hey, it's only like $47 million per panel.
Photo: VINCENZO PINTO/AFP/Getty Images
Last night, Francis Bacon's 1969 painting Three Studies of Lucian Freud became the most expensive piece of art ever sold at auction. After six minutes of bidding at New York's Christie's auction house, an unnamed bidder emerged victorious with a bid of $142,405,000. (Apparently, the bid of $142,405,001 came in too late.) This surpasses the previous record of $120 million that Edvard Munch's The Scream set in 2012. (We should note that this record is only for auction, as a version of Cézanne's The Card Players reportedly sold for upwards of $250–300 million to the nation of Qatar.) The piece itself is noteworthy for being particularly bright for Bacon, and for featuring another legendary artist, Freud, as the subject of the painting, at the height of their friendship (and possibly "friendship"). We can't help but think of all the actual bacon that person could've bought for that money, but that's just because it's breakfast time.