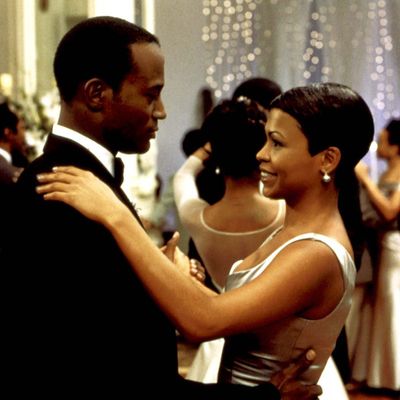 BEST MAN, Taye Diggs, Nia Long, 1999
Photo: Universal Pictures/Courtesy Everett Collection
The Best Man Holiday, the sequel to 1999's beloved dramedy The Best Man, is out this weekend, and it's a Big Deal for those of us who have been waiting fourteen years to learn what happened to the film's wonderful characters. If you haven't seen the first one (or haven't in a while), here's a brief recap: The first movie centered around Harper Stewart (Taye Diggs), a writer who decides to "fictionalize" his friends' secrets in a new book, stupidly imagining that they wouldn't figure it out. The book details an affair Harper had with his best friend Lance's (Morris Chestnut) now-fiancée, Mia (Monica Calhoun), who was frustrated because Lance was cheating on her. Lance assumed she didn't know about his infidelity and she got her (secret!) revenge by messing with Harper. Now with their wedding approaching and Harper chosen as best man, we all know what happens: His book gets out and drama ensues!
You've also got Robin (Sanaa Lathan, as Harper's girlfriend), Jordan (Nia Long, as Harper's One-Who-Got-Away), Julian (Harold Perrineau, as a groomsman dating the bride's awful sorority sister, Shelby, played by Melissa De Sousa), Quentin (Terrence Howard, as the gang's sleazy jokester), and "Candy" (Regina Hall, the stripper Julian meets, and woos, at Lance's bachelor party). Got it?
Now here's what we're wondering for the sequel:
Did Lance forgive Harper for messing around with Mia and then writing about it?
As a devout Christian, you'd assume that Lance has it in his heart to forgive Harper and Mia for messing around — an act committed because she was fed up with Lance's cheating. Not that it's okay to sleep with your best friend's girlfriend, but Harper did give a pretty moving best man speech at Lance and Mia's wedding.
Do Quentin and [shiver] Shelby end up together?
There's a good chance! He's a sleazy dude, she's a sleazy gal — they deserve each other. Also, what's that rule about B-plot characters always falling in love?

Will Candy's stripper past come back to haunt her?
Will it work out between Julian and Candy? Julian liked her enough to invite her to be his date at Lance's wedding (don't you usually have to get your plus-ones approved beforehand?), which was happening the next day. No matter what you think about Shelby, feel bad that she got dumped because her boyfriend brought another girl (a stripper, mind you) to the wedding they planned to attend together. That's messed up.
Do Harper and Jordan finally get together?
If you recall, The Best Man ends with Harper proposing not to Jordan, but to his current girlfriend Robin. And she says yes! "Yes" to a dude who just a short while ago wouldn't say "I love you" to her over the phone. "Yes" to a dude who wrote a book not only about one of his past romances, but two of them, and showed up at Jordan's with the full intention of being unfaithful. In the end, he wasn't, but that's still pretty shady. No doubt the sexual tension between Jordan and Harper will continue on into Best Man Holiday, and I can't lie, I'm kind of rooting for them?
Can someone get Harper a new pair of glasses?
Because these are awful.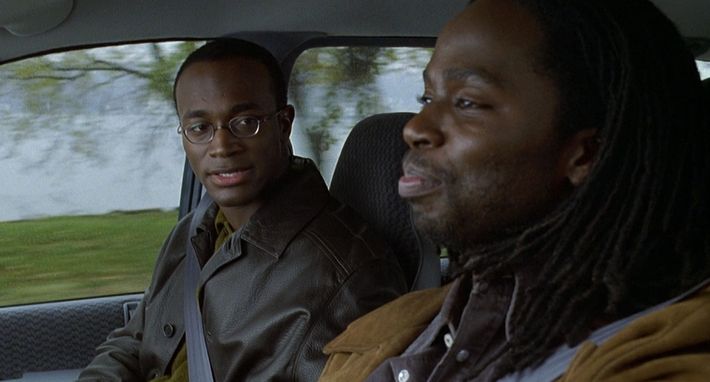 Was Harper's book even a success?
Oof. Imagine if after all that, Harper's "novel" turned burn book, Unfinished Business, wasn't even successful. Everything in The Best Man went down because a prereleased copy of Harper's book got into the wrong hands, and it better have been worth it. Although, to be fair, we are told the book is Oprah-approved, so it's likely that quite a few copies will be sold.
Will they do the Electric Slide again?
Oh, Malcolm Lee, I beg of you. Please!