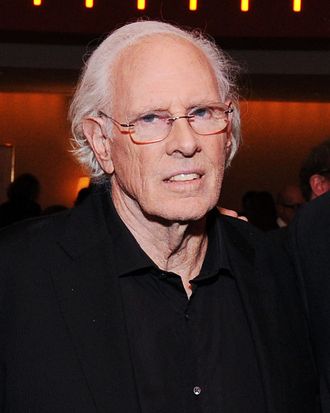 Bruce Dern.
Photo: Ilya S. Savenok/Getty Images
Earlier in the year, Laura Dern told us that her father, Bruce Dern, was in some ways like her Enlightened character, Amy Jellicoe. "They're fierce advocates for other people who sometimes, in the way they present their advocacy, can be misunderstood," she said. Our translation, having spoken to him last night at a screening of Nebraska: Bruce Dern is an old-school, uncensored hippie, and that's pretty awesome. He let his granola flag fly when we asked him what he'd do given a surprise $1 million (his character in the movie thinks he won money from Publishers Clearing House). "
Well, I'd keep a little bit for myself and probably put two thirds of it to any people who are trying to save the wolves and the elephants and the monkeys in Indonesia," he said.
His soft spot for animals ("the critters," in his words) extends to his eating habits, too. "I try not to eat anything that has tear ducts," he told us. "And I won't eat pig, because pigs cry. I'm not cool with that. I'm not saying you have to be a vegan, but you know, have a peanut butter sandwich." You might think his unshaven look in the movies is his real-life style, but it was just him getting into character. "I just let everything grow and hang out," he said. "Constantly my wife is like, 'Get rid of the tusks in your nose, clean the ears out, suck in the man tits, and stand up straight, for Christ's sake.' And she's right about all things — so she didn't come on location in Nebraska. And luckily, because I had tusks to here [extends his hand several inches from his face]." This man is great, tusks and all.