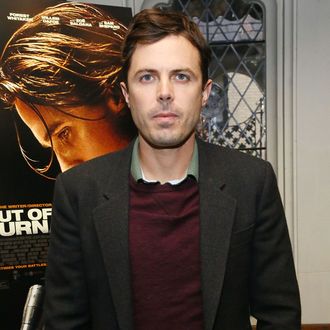 Photo: Astrid Stawiarz/2013 Getty Images
How do actors decide which roles to take? They consult with managers and agents, maybe let a producer sweet talk them, or talk it over with their spouse. Meditate? Consult a psychic? Not so for Casey Affleck. He likes to harangue Matt Damon and his brother Ben Affleck for hours on end. From a profile in this weekend's New York Times Magazine:
Damon told me that in the past, Casey would call him to discuss whether he should take a role and interrogate him for three or four hours, taking whatever position Damon didn't; as soon as Damon relented, Casey would immediately take the other side. (And when Damon would excuse himself to, say, feed his kids, he'd find out later from Ben that Ben had gone through the exact same process — that Casey had called Damon as soon as Ben hung up.)
Apparently Casey has outgrown this habit, though; acting opposite Christian Bale in the upcoming Out of the Furnace inspired him to take on more projects. I'm Still Here 2, anyone?