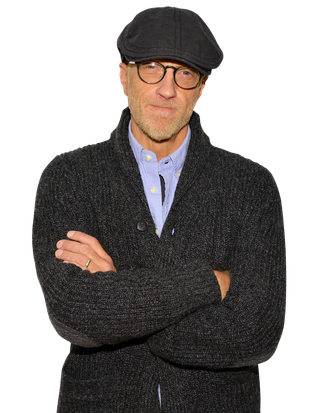 Chris Elliott.
Photo: Slaven Vlasic/Getty Images
Chris Elliott has gotten to goof around for the last two seasons of his Adult Swim show Eagleheart (which returned at midnight last night), but the new season sees the show break from form, with Elliott's U.S. Marshal character on a mission to solve a deep-rooted conspiracy. This tears apart the show's previous fifteen-minute sketch structure and allows Elliott to stretch as an actor: For the first time on this show, he finds himself looking for his character's motivation. ("I sound like an obnoxious actor now!" he laughed. "But I was hesitant to call myself an actor before. I can now.") Elliott chatted with Vulture about drama, his assessments of Bill Murray and Rob Lowe, and his man crush on Hugh Grant.
While I was on hold, instead of hold music, it was a news report about the Philippines, so my mind wandered away from comedy for a moment. What they were describing, if it weren't real life, could have been a sketch on Eagleheart.
No, I know. It's pretty devastating. It's pretty horrendous. It took the wind out of my sails, too. I think the approach on Eagleheart is always to make fun of it — not making fun of violence, but making fun of the way violence is portrayed, for the most part, in movies and TV. The exploding squibs and big buckets of blood and gore and that kind of stuff. But I get that feeling on news in general — don't you? There are newscasters that seem, not happy, but like, Oh, okay, they have something to be dramatic about, that can rev up their reporting. That's the problem with news, to me. It just brings up a weird thing in our culture — two years from now, there will be a movie about it.
When is too soon for there to be a movie about a violent or horrific event, for a cultural treatment of it? Or even a comedic treatment of it?
I'm old enough that I remember how Kennedy jokes were off-limits for a long time. And now it's sort of like making conspiracy jokes about it is commonplace. And also, since it's the anniversary, are we just supposed to think about that in November, about what happened in Dallas in November? That's all been commercialized to me, too. Did you see Rob Lowe as JFK in Killing Kennedy? What did you think? I thought the whole thing sucked, the whole thing was horrible, but I thought Rob Lowe was pretty good. I saw him on Bill Maher, and Bill Maher was like, "What's it like playing this guy who's been played by so many people? Did you watch the other ones?" And he said no, it's all about not doing an impersonation but inhabiting the guy. And he kind of did. I just wish he had a better script and a better project to do it. When I first heard it would be Rob Lowe, I thought, That's a weird choice. And then I saw him, and he was great.
Would you ever want to do a dramatic role, a historical figure?
I'm hesitant to say, "Yeah! That's something I would like to do," because when I hear that from actors kind of in my ballpark, it sounds like they're putting a plea out there for people to look at them in that light. I think if people were going to look at me in that light, it would have happened already by now for me. I'm not doomed to be a captain of comedy, I'm happy to be in it, but if something like that comes along, believe me — I would not turn it down. Things changed when Bill Murray did Lost in Translation, and actually even Groundhog Day, when I was watching him work on that. I mean, he's a dramatic actor to me who also knows how to do comedy. Lost in Translation for me was something completely different, where the acting side disappeared and I was totally consumed by his character. I think I was inspired by that, Maybe I should do that! but I really haven't made any effort in that direction. I mean, I played a serial killer on Third Watch. People always want me to do those kinds of things, some weirdo character, which is fine, too.
You're a Shakespeare professor in an upcoming untitled Hugh Grant movie …
I am! But he's also a kind of a goofball. He's an Anglophile, so he dresses like he's English and he's immediately fond of Hugh Grant.
Like a man crush?
Like a British-man crush on Hugh Grant. I personally have a man crush on Hugh Grant, so I guess I brought that to it. [Laughs.] I had never met him before, and he was just really easy to work with. I'm somewhat intimidated on film sets, because I'm not used to it and there's more at stake, and he made me feel right at home. Whenever that happens, regardless of the quality of my work, I feel like it's a success, because I've worked with jerks before, so it's nice to work with people who are great — people who are good at what they do, and are great people.
You're getting to do some more dramatic acting this season, though, since it's not like each episode is a stand-alone sketch.
Definitely. I think for the audience, it's more compelling to watch something like that, also. I'm proud of seasons one and two, but season three is more like this feature with a story line running through these ten episodes.
Did you change your approach, because of the change in structure?
It's weird to talk about it this way, because we shot it the same way, with episodes out of sequence, scenes out of sequence, and I'm still doing silly, stupid stuff throughout these ten episodes. But in seasons one and two, all I really had to do was ask, "Am I angry in this scene? Am I happy? Mad? Just tell me what emotion I have." We did it so out of order, it was impossible to know. But in season three, I had to ask those same questions, but also why I was that way. "Am I angry in this scene? But why, though? I need to track this." There are times when I watch season one or two and think, But why am I so happy there, or playing it so broad? I just came out of a fight scene. And it's because I didn't track it. The goofy stuff was the same, so there really wasn't any change in that. And there's still the over-the-top gore. But it's the arc, and the character relationships that are somewhat developed. And season three is a lot darker than seasons one and two. There is this range of emotions, saying good-bye to some characters, so it was fun to play that. But having said all that, it's still Eagleheart. [Laughs.] It's still this silly, goofy show that shouldn't be taken too seriously.