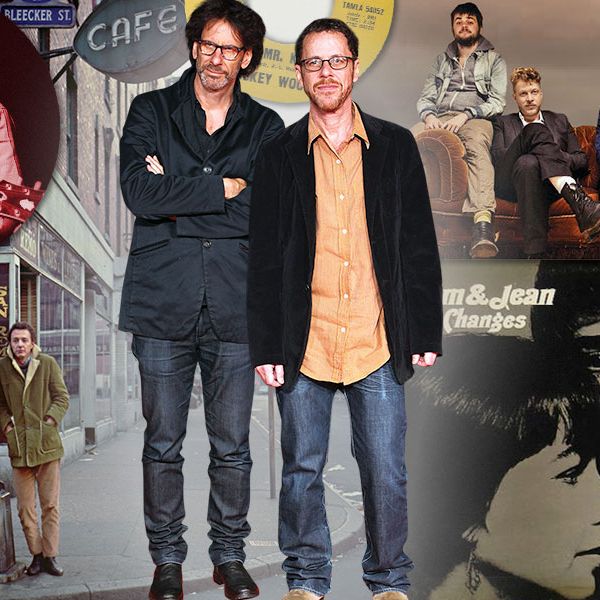 Photo: Fred Duval/FilmMagic/getty images (coens); Rebecca Miller (mumford & sons); Kai Shuman/Michael Ochs Archives/Getty Images (van ronk); Michael Ochs Archives/Getty Images (neil)
The Coen brothers' new movie, Inside Llewyn Davis, follows its fictional title character (Oscar Isaac) as he haplessly maneuvers through the New York folk scene of the early sixties. These are some of the musicians who helped inspire the film.
Mumford & Sons
New York Magazine: T Bone Burnett recruited Marcus Mumford to contribute to the film's soundtrack. Were you familiar with his band?
Joel: I can't say I knew it really well, but we certainly knew it. I think he would freely admit that his band's music is very much influenced by American folk music from that period, or even earlier American music.
Jim and Jean
Ethan: The movie's Jim and Jean [played by Justin Timberlake and Carey Mulligan] weren't based on the real folk duo. We just liked their names. The real Jim and Jean were not even a couple. It was just, Jean slept on Jim's couch.
Mickey Woods
NYM: Timberlake, Adam Driver, and Isaac sing a song called "Please Mr. Kennedy," based on a real 1961 Motown song of the same name, performed by Woods.
Ethan: The original wasn't folky, just catchy. Lyrically it was wrong because it was about Vietnam. So we thoroughly rewrote it. We needed a poppy thing.
Dave Van Ronk
Joel: His book [The Mayor of MacDougal Street] was one of many books we drew on.
Ethan: In the early-sixties folk scene in Greenwich Village, Van Ronk was the biggest fish in the small pond, so he was emblematic of the pre-Dylan folk singers. We gave Dave's repertoire to Oscar; in the movie, Llewyn plays mostly Van Ronk songs.
Bob Dylan
Ethan: We were generously sent unreleased studio takes that Bob did for The Times They Are A-Changin'. We put an unbelievably beautiful version of "Farewell" on the soundtrack album. But the version we used in the movie is a live recording …
Joel: … From The Witmark Demos. That song in particular is very interesting because, melodically and lyrically, it's related to an old English immigrant song called "The Leaving of Liverpool." If you listen to that, you see what Dylan was listening to.
Hedy West
NYM: The movie's Jim and Jean sing West's "500 Miles." Why that song?
Ethan: They're this square act, and it served the purpose of defining them as square, but it's a beautiful song.
Joel: It's also one of the songs in the movie that people probably know.
Fred Neil and Vince Martin
Joel: We've always been interested in Fred Neil and, by extension, [his musical partner] Vince Martin.
Joel: Martin and Van Ronk and Ramblin' Jack Elliott were middle-class kids from the boroughs interpreting traditional American music. They were very concerned with authenticity—and yet affecting these funny, completely new identities for themselves.
Ethan: That's the joke of Adam Driver's character: He's this Jewish kid who renames himself Al Cody. Vince Martin was the Italian kid who decided to be Vince Martin.
*This article originally appeared in the December 9, 2013 issue of New York Magazine.