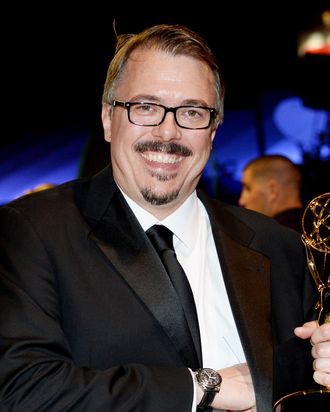 Producer Vince Gilligan attends the Governors Ball during the 65th Annual Primetime Emmy Awards at Nokia Theatre L.A. Live on September 22, 2013 in Los Angeles, California.
Photo: Kevork Djansezian/Getty Images
Perhaps it was only a matter of time: Breaking Bad creator Vince Gilligan will appear on Community, the third notable BB person to do so. (Giancarlo Esposito appeared last year, and Jonathan Banks was already announced as a guest star for this coming season.) According to EW, Gilligan will play a "smooth-talking gold digger" who gets caught in a fight between Annie and Abed. Gilligan's not the only heralded showrunner who'll be making an appearance in the coming months — Arrested Development's Mitch Hurwitz will be at Greendale this season, too. Sit by the phone, Matt Weiner!