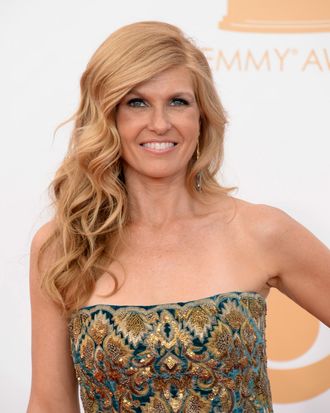 Actress Connie Britton arrives at the 65th Annual Primetime Emmy Awards held at Nokia Theatre L.A. Live on September 22, 2013 in Los Angeles, California.
Photo: Jason Merritt/Getty Images
This season of American Horror Story has been about as wild and ridiculous and blood-drenched and campy as you'd expect a story of warring witch factions to be. And while Coven already has a more cogent central theme than season one's Murder House, it is missing a little something — namely Connie Britton. But it doesn't have to be like this! "I've actually been talking to [AHS] this season, because they're down in New Orleans and I'm in Nashville," Britton tells Rolling Stone. "I'm like, 'I'll put that [witch costume] on and jump on a plane and go to New Orleans.' Yes, I would do that. As long as we can figure it out with [AHS and Nashville], I'm in. I hope it happens," she says. Oh, us too, Connie. Us too.