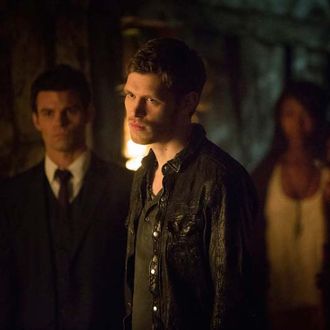 The Originals – Pictured (L-R): Daniel Gillies as Elijah, Joseph Morgan as Klaus, and Phoebe Tonkin as Hayley.
Photo: Bob Mahoney/The CW Network
The CW has picked up its three freshmen series, the network announced this afternoon. The Originals, The Tomorrow People, and Reign have all earned a full first season. The Originals is a New Orleans–set spinoff of The Vampire Diaries and seemed like a sure thing out of the gate, while The Tomorrow People, about a race of super-humans being chased by the government, and Reign, a sexy teen history of Mary Queen of Scots, were perhaps more of a gamble. As it turns out, they all pull pretty similar numbers. TV is not perfectly predictable!