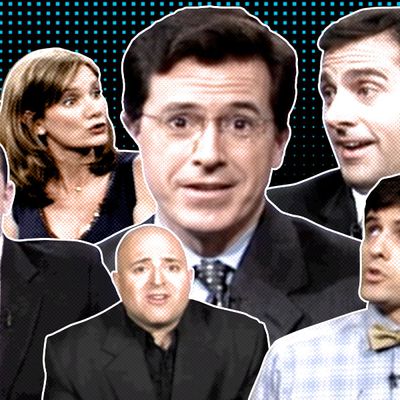 Photo: Maya Robinson and Photos by Comedy Central
John Oliver leaving The Daily Show on December 19 for his own HBO show feels like a big deal: He's been on the show for seven years, and his style of righteous frustration gives the show some of its bite. As fill-in host over the summer, he proved he could anchor the show, too, making his absence all the greater. But Oliver is hardly the first person to move on from The Daily Show. Let's look back at every Daily Show contributor and correspondent who appeared on at least ten episodes during Jon Stewart's reign (hence no A. Whitney Brown and Brian Unger) but is no longer with the show. There are a lot of them!
Dan Bakkedahl, 2005–07: Bakkedahl's one of those correspondents who seems much more familiar from his non–TDS work than his time on the show. You recognize him now from Veep, Community, and The Heat, but he had some real gems during his Daily Show tenure.

Nancy Carell, 1999–2002: When she was on The Daily Show, she was credited as Nancy Walls, but these days she goes by her husband Steve's name. She's been a lot less visible than him since leaving the show, but she's shown up here and there in 40-Year-Old Virgin and on The Office (as Carol, the real estate agent). More recently, the Carells sold a pilot they co-created.
Steve Carell, 1999–2005: What ever happened to that guy? He seemed so funny. Carell's arguably the most successful Daily Show alum, with his star-making 40-Year-Old Virgin opening just a few months after he left TDS and The Office premiering a few months after that. Since then, he's bounced back and forth between indies and blockbusters, and this year alone has four movies. He'll always be Produce Pete to us, though.
Wyatt Cenac, 2008–2012: Cenac took his brand of chronic exasperation on the road at the end of last year and these days tours as a stand-up. He'll also appear in David Cross's upcoming indie movie Hits.
Stephen Colbert, 1997–2005: Until Samantha Bee broke his record, Colbert was TDS's longest-running correspondent — and his tone and sensibility helped shape the current incarnation of the series. Now on The Colbert Report, his comic style is in even more potent form, solidifying his position as the country's leading satirist.
Nate Corddry, 2005–06: The younger Corddry brother was on TDS for a short time, but since then has been in a ton of other stuff: Immediately after Daily Show, Corddry co-starred on Studio 60 on the Sunset Strip (with a brother stranded in Afghanistan!!!), and then he did United States of Tara and Harry's Law. He's been on a bunch of episodes of Childrens Hospital and is now a regular on CBS's Mom.
Rob Corddry, 2002–06: Corddry's Daily Show segments often had him playing the loud jackass and butt of the joke, which carried over into his immediate follow-up, a short-lived sitcom called The Winner. Many supporting roles followed, and Hot Tub Time Machine put him in a slightly higher comedy echelon, but it's his work on Childrens Hospital — which he created and stars in — that's earned him two Emmys.
Frank DeCaro, 1996–2003: A holdover from the Kilborn era, DeCaro's "Out at the Movies" segment is part of TDS's more entertainment-oriented, rather than politically oriented, past. These days, he's the host of a Sirius radio show.
Vance DeGeneres, 1999–2001: DeGeneres hasn't been on-camera much since the end of his Daily Show stint, but he's not out of the game: He runs Carousel Productions, Steve Carell's production company, which was behind Crazy, Stupid, Love. and The Incredible Burt Wonderstone.
Josh Gad, 2009–11: Gad's another correspondent who seems more familiar post-TDS, largely because of his Tony-nominated turn as Elder Cunningham in The Book of Mormon. His sitcom 1600 Penn was a flop, but Gad's the voice of the snowman in Frozen, and he's in Zach Braff's upcoming Wish I Was Here.
Stacey Grenrock-Woods, 1998–2003: While other correspondents had extra bluster or smarm, Grenrock-Woods had the overwhelmingly saccharine sincerity that makes local news stories extra bizarre. (Exhibit A: her report on the town with a beer-drinking goat for a mayor.) After TDS, Grenrock-Woods played Trisha Thoon on Arrested Development, wrote a memoir called I, California, and is still the sex advice columnist for Esquire.
Rachael Harris, 2002–03: Harris isn't as famous as Carell or Colbert, but she has been everywhere since she left the show: Every VH1 talking-head series, The Hangover, she's the mom in the Diary of a Wimpy Kid movies, she recurs on Suits and New Girl, and is pretty much the go-to for "uptight, vaguely mean supporting character."
Ed Helms, 2002–06: Helms's Daily Show persona was in the Colbert family — smart and smarmy, rather than excitably goofy (Carell) or cuttingly insightful (Samantha Bee). He followed Carell to The Office, became megafamous with The Hangover franchise, and has had voice-over and supporting roles in dozens of other shows and movies. He recently launched a web series on Yahoo, and he tours with his bluegrass band.
Beth Littleford, 1996–2000: Littleford was one of the original correspondents from the Kilborn days, anchoring the entertainment news segment "B-E-T-H" and once helping collect boar semen. Since she left the series, she's appeared all over the place, and currently plays the mom on Dog With a Blog. Probably less semen-collecting involved with that.
Demetri Martin, 2005–2008: Martin's "trendspotting" segments were so popular they basically gave birth to his Comedy Central series, Important Things With Demetri Martin. Martin was in this summer's In a World and can be seen next year in The Last Time You Had Fun, an indie comedy co-starring Eliza Coupe about four people who ditch their regular lives for one night.
Olivia Munn, 2010–11: Munn was only on a handful of episodes, though her tenure became something of a lightning rod. Post-TDS, Munn's has been a standout on The Newsroom, played Nick's girlfriend on New Girl, and had a supporting role in Magic Mike.
Rob Riggle, 2006–08: Riggle's military background and overt hunkiness were an unusual combo for a Daily Show correspondent, but hey — he plays a very convincing lumberjack. Since TDS, Riggle's appeared on a handful of sitcoms, recurred on Wilfred, is a regular on NTSF:SD:SUV, and writes and stars in the web series Coogan Auto.
Mo Rocca, 1998–2003: Rocca turned faux-news correspondent into real-news correspondent: After bridging the Kilborn-Stewart switch, he became a contributor to CBS Sunday Morning. He's also a frequent panelist on NPR's "Wait Wait…Don't Tell Me," and he's the host of the show My Grandmother's Ravioli on the Cooking Channel. And he looked really foxy in his Out100 photo.
Matt Walsh, 2001–2: Walsh had already cofounded UCB and starred in its eponymous TV show by the time he wound up on TDS, and in the years since he's become increasingly ubiquitous. These days, he's Mike on Veep, but you can spot him in Old School, The Hangover, I Love You, Man, Role Models, Step Brothers, Party Down, and Ted. In the near future, he'll be in David Cross' Hits and found-footage tornado movie Into the Storm, and he co-wrote, directed, and stars in A Better You.
Lauren Weedman, 2001–02: Weedman was poking holes in the ostensible glamour of Sex and the City back in 2002, far before any of that became trendy. She's a familiar face from a slew of VH1 programming, and she recently staged a one-woman show in Portland, Oregon; next year, you can see her in the HBO series Looking.
Bob Wiltfong, 2004–05: One of TDS's forgotten children. Wiltfong was only on the show for eighteen episodes, though he did get in a solid Haliburton segment, at least. He was on an episode of It's Always Sunny this season, recently had a one-man show in L.A., and has been the "World's Greatest Spokesperson in the World" in the Nationwide Insurance TV ads.