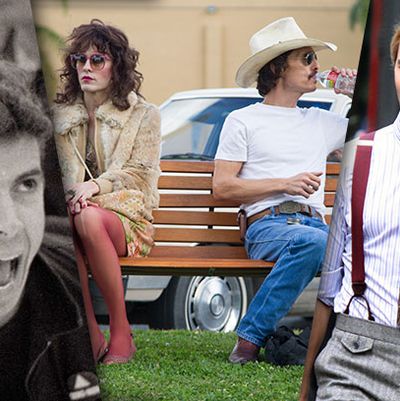 Photo: Ninety Thousand Words, Focus Featurs and Splashnews
It's bracing to watch the new movie Dallas Buyers Club on the big screen, and not simply because its star Matthew McConaughey famously shed so much weight to play Ron Woodroof, an HIV-afflicted rodeo cowboy who smuggled life-extending drugs into the country in 1986. The real shock is that it's been so long since Hollywood offered a major release that dealt even tangentially with HIV/AIDS, let alone offered a plotline and a lead character that puts the virus front and center. But Dallas Buyers Club doesn't arrive this weekend in a vacuum: Coming on the heels of last year's powerhouse documentary How to Survive a Plague and preceding Ryan Murphy's HBO adaptation of the Larry Kramer play The Normal Heart (due out in 2014), these projects suggest that the time is right for a new cinematic look at AIDS, especially one focused on the early days of the epidemic.
That's not to say this will be easy. Dallas Buyers Club, in particular, has been kicking around Hollywood for the better part of a decade; previous attempts to mount it included A-listers like Brad Pitt and Ryan Gosling, but financing was still hard to come by. "That one liner — period piece, HIV drama — was as far as many studios read before they said, 'No, thank you,'" McConaughey told The Wrap. And yet the actor fully committed himself to a project that is widely expected to bring him his first Oscar nomination, potentially opening the doors for more of these stories to be told.

Hollywood first began addressing the AIDS crisis almost thirty years ago with the pioneering 1985 TV movie An Early Frost (which starred Aidan Quinn as a young gay man who must tell his parents, played by Gena Rowlands and Ben Gazzara, that he has AIDS) and other eighties films like Parting Glances and Longtime Companion, but it wasn't until the following decade that Hollywood began to depict the pandemic with real consistency. Tom Hanks won an Oscar for playing an AIDS-afflicted man in 1993's Philadelphia, while indie films like The Living End and Kids, in addition to HBO's fact-based, star-studded And the Band Played On, tackled the virus head-on. For a while, it seemed that a certain kind of ensemble dramedy — say Boys on the Side, or Playing By Heart — was honor-bound to include an AIDS-afflicted character amongst its ensemble.

But as we entered our new century, that dramatic urgency of the nineties began to dissipate. Perhaps it's because TV picked up the slack: Regulars on ER and Queer as Folk lived with HIV in the early aughts, while HBO adapted Tony Kushner's pioneering Angels in America for a miniseries in 2004. In the real world, the high-profile celebrities who coped with the virus in the nineties and made the crisis feel more real and personal for increasing numbers of Americans — including Magic Johnson, The Real World's Pedro Zamora, Arthur Ashe, and Greg Louganis — now came fewer and far between. And a new century when people could live more manageably with HIV because of wider access to cheaper medication seemed to sap Hollywood of its will to tackle the virus at all; aside from a misbegotten big-screen revival of Rent (itself adapted from a mid-1990s musical), movie studios had little of note to offer on the subject.

Dallas Buyers Club, then, offers a step in the right direction. Yes, to look at that logline, you might think that little had changed from Philadelphia — once again, an AIDS movie requires a heterosexual point of entry and relies on gay supporting characters to add mostly sexless color — but at least this time, we've got a protagonist who's actually dealing with the virus himself (unlike Denzel Washington in Philadelphia, who plays Hanks's straight lawyer and is the real lead of that movie). As McConaughey attempts to game the system and secure drugs for himself and for his burgeoning clientele of similarly afflicted Texans, the movie sheds new light on the early days of the AIDS crisis, when government obstinacy, prejudice, and pharmaceutical interference all conspired to rob millions of their fight for life.

And as How to Survive a Plague proved last year, the subject is incredibly, inherently dramatic. Woven together from reams of startling, intimate videotapes, the Oscar-nominated Plague (currently available to watch on Netflix Streaming) chronicles the rise of AIDS activism; it's a vital document that's deeply moving and, in its own unique way, an exciting, invigorating piece of cinema. As you watch these driven people work together to stay alive — many of them young men blessed with the good looks of Hollywood matinee idols — and glimpse loving relationships ripped asunder or fought for until the last breath, you can't help but notice the continued cinematic potential of these true stories. Already, ABC has begun developing a miniseries based on Plague, in addition to another project about the early days of the gay rights movement (from Oscar-winning screenwriter Dustin Lance Black), that will surely deal with much of the same material.

Next year, HBO will offer The Normal Heart, which ought to make further strides: It's directed by a gay man (Ryan Murphy), adapted from a seminal play by another gay man (Larry Kramer*), and stars several openly gay actors, including Matt Bomer, Jim Parsons, and Jonathan Groff (even if its two leads, Mark Ruffalo and Julia Roberts, are heterosexual). Set in early-eighties New York City, Heart follows activist Ned Weeks (Ruffalo) as he tries to effect political change during the early days of the AIDS crisis, and the movie should be a compelling look into a period with real cinematic possibilities. (Failing that, paparazzi photos indicate that the film is at least guaranteed to work as a gay sartorial time capsule: Check out those Fire Island Daisy Dukes on Groff!)

Murphy had initially tried to mount the production on the big screen — Barbra Streisand, once attached to the production, had spent years attempting the same thing — but let's hope that as a television project presaging those ABC miniseries-to-be, it can work in concert with Dallas Buyers Club and How to Survive a Plague to usher in a new willingness to explore the AIDS crisis. There are so many figures lost to AIDS deserving to have their fascinating stories told, including Robert Mapplethorpe, Rock Hudson, Keith Haring and many more, and it's long past time for Hollywood to start listening.
* This post has been corrected to note that Larry Kramer wrote The Normal Heart.