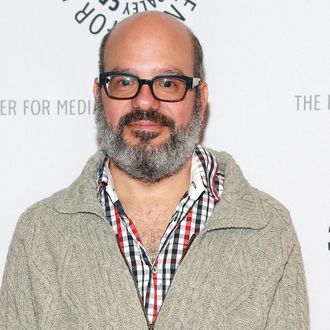 Photo: Robin Marchant/Getty Images
Fans of Community have not one but two reasons to be excited this morning. First, Vulture has learned that Arrested Development star David Cross will guest-star in an episode during the show's upcoming fifth season. The second bit of news, which might be even bigger for Greendale diehards: Cross's episode will be a follow-up to the now-classic 2011 Dungeons & Dragons half-hour ("Advanced Dungeons & Dragons," for title purists). Per an official episode description, ANUSTART Cross will play Hank Hickey, the "bitterly estranged son" of Jonathan Banks's previously announced character, Professor Hickey. Hank "joins the study group for, at the very least, the second most important game of Dungeons & Dragons ever." Cross is expected to be on the Community set this week to film his part, but beyond that, we don't know anything else about the episode — except, perhaps, that's it's completely logical Cross is headed to the show.
For one thing, Community creator Dan Harmon has an Arrested connection: He had a cameo in season four of the show. Plus, as previously reported, Arrested creator Mitch Hurwitz will do a guest turn on Community next season. But Cross has also been a vocal supporter of both Community in general and Harmon specifically. Last year, he told A.V. Club that the show was the best thing he'd watched in 2012. "I downloaded every Community and gorged myself on them, even going back for seconds and sometimes thirds," the told the site. "Best comedy on TV, hands down." He then updated his view on the show after Harmon was ousted, telling Splitsider, "I saw a couple episodes of the new season and was sad and I stopped watching."
Meanwhile, it's becoming pretty clear that Harmon apparently has decided not to leave anything on the table when it comes to lining up guests for season five. In addition to Banks, Cross, and Hurwitz, other well-known names headed to the show include Paul Williams, Vince Gilligan, Walton Goggins, Nathan Fillion, Robert Patrick, Paget Brewster, Rob Corddry, Brie Larson, LeVar Burton, Kumail Nanjiani, Katie Leclerc, Ben Folds, Tim Heidecker, and Eric Wareheim. (Not to mention, The Daily Show's John Oliver will also return as Professor Ian Duncan for six episodes.) In case you haven't cleared your schedule yet, Community returns to NBC on January 2.