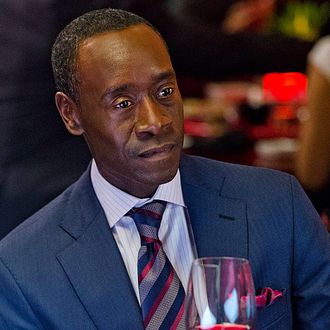 Don Cheadle as Marty Kaan in House of Lies (Season 2, Episode 2).
Photo: Randy Tepper/Showtime
In a chat with Vulture way back in 2011, Don Cheadle said of his long-gestating Miles Davis biopic, "We're struggling through, but it's going to happen." Now the Associated Press reports that with BiFrost Pictures signed on to finance and produce the film, Kill the Trumpet Player is finally coming to life. The film will be Cheadle's directorial debut, and he'll star as the legendary musician (he even wrote the script with Steven Baigelman). The story centers on the period when Davis went on hiatus from recording, only to return in 1979. So far, we also know that Zoe Saldana stars as his former wife Frances and Ewan McGregor will portray a Rolling Stone reporter. So, when can we pre-order tickets?