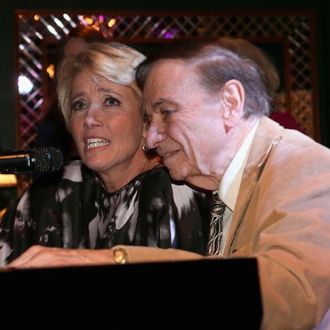 Emma Thompson and Richard Sherman.
If there remained any doubt (or, on the part of weary pundits, denial) that awards season has begun in earnest, it was put to bed this past week when Hollywood bubbled over with year-end movie events all vying for voters' time. On Friday alone, George Clooney touted August: Osage County at its AFI Film Festival premiere, while across the street, David O. Russell was joined by Jennifer Lawrence and Jane Fonda at a small Roosevelt Hotel soirée preceding a career tribute to the American Hustle director. (Before you ask: The pixie cut looks great in person, and at one point, the energetic J. Law shouted for reasons unknown, "Does anybody have a banjo?" Sadly, no one did.) Still, Friday's biggest bash was all the way over at the Beverly Hills Hotel, a hot-ticket sing-along dedicated to the songs of Saving Mr. Banks that even drew smiles — and some harmonizing! — from Hollywood's most stone-faced dramatic star.
Saving Mr. Banks tells the story of tightly wound Mary Poppins author P.L. Travers (Emma Thompson) as she's wooed by Walt Disney (Tom Hanks), who hopes to turn her story into a movie musical with the help of songwriting brothers Richard and Robert Sherman (played in the film by Jason Schwartzman and B.J. Novak). The movie includes many of those signature, toe-tapping tunes from the Sherman Brothers, and the Banks event on Friday took advantage of the crowd-pleasing source material by placing 85-year-old Richard Sherman at the piano as most of the cast surrounded him to sing along. Emma Thompson, in particular, was a standout: Her rendition of "A Spoonful of Sugar" was so on point and Broadway-perfect that she could easily handle a Julie Andrew biopic next, assuming she wants to run the table when it comes to Mary Poppins creatives. (At the very least, someone needs to find Thompson a musical of her very own right away.)
More than other Oscar contenders like Gravity and 12 Years a Slave, Saving Mr. Banks can bank on crowd-pleasing support from the Academy's oldest voters, and many of them were on hand Friday, including Mickey Rooney. But the most surprising party guest had to be Sean Penn, who's just about the last person you'd expect to see at an awards season event touting this year's chim-chim-cheeriest contender. (As The Hollywood Reporter's Scott Feinberg noted, Penn is a longtime friend of Emma Thompson's.) And yes, dear reader, even Sean Penn sang along. If Saving Mr. Banks can work its sugar-spoonful magic on him, who's next?
Here's the cast rendition of "Let's Go Fly a Kite":