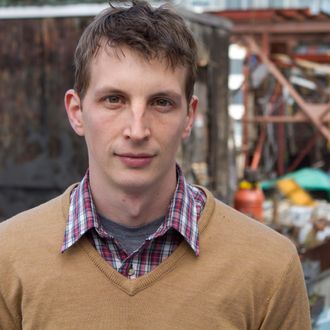 Hallberg.
Photo: Jordan Alport
Garth Risk Hallberg has so far responded with judicious silence to the good fortune of having his first novel, the 900-page City on Fire, sold to Knopf for almost $2 million — virtually unheard of for an author with no connection to vampires or cable news (and that was after selling Scott Rudin the movie rights). A widely published critic, he knows enough about the literary universe to adopt Schadenfreude-evasive maneuvers. (Knopf's publicist says he's still "fine tuning" the book and will hold off on interviews until publication.)
Sadly, this deprives us of further details about the novel. We know it's set in New York in the seventies, and that, as of two years ago, it consisted of seven sections, the odd-numbered parts spanning from the U.S. Bicentennial to the '77 blackout, while the even ones "delve into the past's past." We also know it has something to do with a locked-up East Village townhouse and a shooting in Central Park. Everything else about Hallberg — his style, taste, and literary beliefs — we must gather from his essays, interviews, reviews of other books, and one precious excerpt. Here are 28 things you can surmise about Garth Hallberg's City on Fire by reading Garth Hallberg.
1. An excerpt of a 2011 draft of City on Fire ran in Canteen, along with a lengthy Q&A.
2. The first draft was roughly 400,000 words (or 1,200 pages) long.
3. In the excerpt, which seemed to be the draft's opening, 28-year-old Charlie Weisberger is fleeing New York via LIRR, without a ticket or his pants, on New Year's Day 1977, after a woman, possibly his girlfriend, has been shot in Central Park.
4. Hallberg's only other book, the novella A Field Guide to the North American Family, consisted of 63 alphabetically organized fictional vignettes placed opposite photographs and not necessarily meant to be read sequentially.
5. City on Fire is meant to be read sequentially.
6. Hallberg watched The Wire as he wrote the novel and thought a lot about Bleak House.
7. He doesn't believe in writing to please people in book publishing: "They're all very bright and good-looking and well intentioned — but they're not the ideal audience to have in mind when writing, I don't think."
8. He looks a lot like people in book publishing, tending to V-necks and the occasional scarf.
9. Also like a lot of those people, he's 34, has two kids, lives in Brooklyn, and writes between 5:30 and 8:30 a.m.
10. In 2010, he wrote an essay headlined "Is Big Back?" He noted that "the current profusion of long novels would seem to complicate the picture of the Incredible Shrinking Attention Span." 
11. He believes "American writers today feel an acute need not only to create literature, but to theorize it. They indulge this need repeatedly, and at great length."
12. He says "The essays on Chekhov and Mann in [James Wood's] The Broken Estate should be required reading for any novelist." It's on later authors that he thinks Wood gets overly "prosecutorial."
13. He thinks the term "hysterical realism," which Wood coined, is overbroad and passé.
14. He thinks Delillo's short-story collection The Angel Esmeralda should have won the 2012 Pulitzer Prize.
15. He's not into fragmentation for its own sake: "A fragmented film such as Babel gives the impression of 'edginess,' but in its form, tells us nothing we didn't know already know."
16. He's over minimalism: "deadpan cool has long since thinned into a manner. Its reflexive irony is now more or less the house style of late capitalism."
17. He enjoys "discriminating irony," but thinks that "now irony defangs itself in its indiscriminacy."
18. He looks down on the overly lyrical, "the airy realms of fine writing."
19. He believes that the ambition "to pair sociological sweep with psychological intimacy … may even be where the vital center of American fiction is, circa 2012."
20. In a Times magazine "Riff," he groups Jeffrey Eugenides, Jonathan Franzen, Zadie Smith, and David Foster Wallace together in the "Converzaioni group," based on general affinities and their participation in a 2006 literary conference called Le Conversazioni.
21. He's fond of cheeky compound neologisms, like "pop-Bourdieuvianism," "pre-humous," and "the New New New Journalism" (aka "N3J").
22. He has read J.K. Rowling's Order of the Phoenix at least six times.
23. He loves Hungarian writers.
24. He has called My Name Is Earl star Jason Lee "A one-dimensional actor with a two dimensional moustache."
25. He writes longhand on gridded notebooks, like Thomas Pynchon.
26. He doesn't tweet or use Facebook: "On comment-threads and twitter feeds, [Matthew] Arnold's 'ignorant armies' can clash ad infinitum. Evidence is whatever we can Google."
27. He keeps his work computer browser-free: "When I get online there's this cycle of anxiety and narcissism that takes over, which is the part of me that I like the least."
28. He never wants to be the caricature of "the Young Man in a Hurry," the wunderkind made good: "You still have to wake up the morning after the circus folds its tents and leaves town and figure out, What the hell am I doing with my life? What am I working on now?"