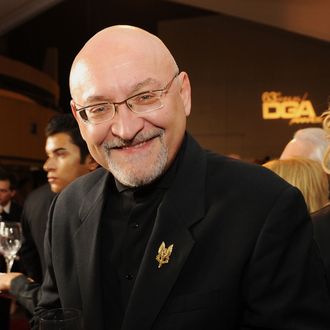 Photo: Kevin Winter/2011 Getty Images
Showrunner Frank Darabont was ousted from The Walking Dead in 2011, but now he has a new creation: Mob City, an L.A. noir story set in the '40s, debuts on TNT December 4. Darabont is of course making the rounds to promote the show — which stars ex-TWD co-star Jon Bernthal — and thus he's answering questions about his relationship to his zombie baby and what exactly went down at AMC when he was fired. In the Times this weekend, he was circumspect:
"Suffice to say, there was some conflict that couldn't be resolved. … I try to avoid that sort of aggravation in my life. It's simply better for my spirit and my state of mind. I've always believed more in taking the high road than the low."
With Rolling Stone, a bit more forthcoming:
"…for the same reason that if the woman that I loved left me for the Pilates instructor and they sent me an invitation to their wedding, for the same reason I wouldn't go to the wedding, I haven't seen an episode of The Walking Dead since [2011]. […] I had to take some time off after that to really reassess everything, to really get over the emotional devastation of having some truly malevolent people tear asunder a brilliant family that had gathered to create this hit for them. It was a very, very deep and loving family, the cast and the crew, and to have that torn apart was — when somebody throws a hand-grenade into that situation, it's tremendously emotionally trying."
And now, in Variety, he expressed very similar sentiments, though perhaps a little more vociferously:
"If the woman you loved with all your heart left you for the Pilates instructor and just sent you an invitation to the wedding, would you go? … There's a deep commitment and emotional investment that happens when you create something that is very near and dear to you, and when that is torn asunder by sociopaths who don't give a shit about your feelings or the feelings of your cast and crew because they have their own reasons to screw everybody, that doesn't feel good."
To be clear, The Walking Dead's Pilates instructor is just a much smaller budget.