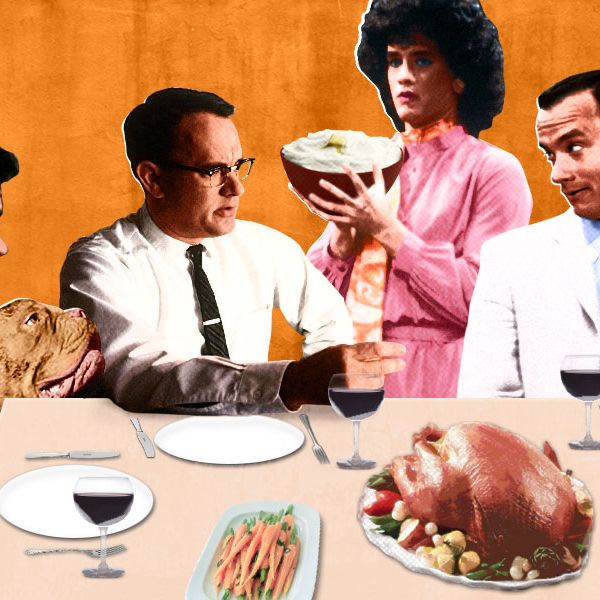 This piece originally ran in November 2013. With Thanksgiving tomorrow, we are republishing it.
There is a growing tradition around this time of year, in which families gather for a big feast to honor a national hero who ushered the U.S. into a new age of balancing romantic-comedy charm and serious acting chops: Yes, it is Hanksgiving, a time to give T.Hanks for Tom Hanks. The adults sit in a circle and talk about what they're T.Hankful for (perhaps this year it's Captain Phillips, Saving Mr. Banks, Broadway's Lucky Guy, or his delightful Reddit AMA?) and then sing the annual holiday standard, "That Thing You Do" by the Wonders. (Meanwhile, the kids trace their fists and then draw in a Big-era Hanks head.) This new annual event has mostly existed online, but it is time that this tradition becomes less virtual and more edible. To make that happen, Vulture has designed a menu for an actual Hanksgiving feast: We teamed up with our very own Bosom-Buddy blog Grub Street to design a meal of truly delicious and original Hanks-themed dishes. Gather your family of Hanks lovers and get cooking! (And just think of all the screening possibilities for after dinner.)
Bosom Birdies: There's no disguising this bird (even in drag!). Inspired by the best of friends, Kip and Henry, our turkey is filled with love — in this case, that's sweet apples and raisins — that will keep him (or her!) nice and moist.
That Stuff-ing You Do: How do you make a Wonder-ful stuffing for your bird? It involves pork sausage, dried cranberries, and none of your attitude, Jimmy.
You've Got Kale: Don't you just love kale in the fall? And don't you think Meg Ryan's Kathleen Kelly would've enjoyed a bunch of kale just as much as the daisies? And unlike a flower, kale tastes delicious when paired with squash and baked with goat cheese.
Joe Versus the Potatoes: These potatoes will be such a cult classic that you might just return to them every year. Imagine if Joe and Patricia took a leap of faith into a volcano full of these creamy spuds instead of hot lava? Things might have ended up the same, but certainly more delicious.
Turnips & Hooch: In honor of Detective Scott Turner and his trusty mutt, we're cooking up maple-infused turnips, and the only mystery to solve here is why you feel so relaxed after eating them. Clue: It's the "hooch" (whiskey).
Catch Me If You Cran-berries: As colorful and festive as a sixties airport lounge!
Forrest Pump-kin Pie: Unlike a box of chocolates, you do know what you're gonna get with every bite of this: pure pleasure! The bourbon kick would certainly please Lieutenant Dan.