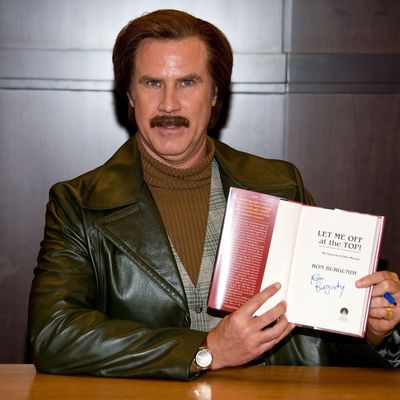 Anchorman Ron Burgundy signs copies of his new book "Let Me Off At The Top: My Classy Life And Other Musings" at Barnes & Noble bookstore at The Grove on November 20, 2013 in Los Angeles, California.
Photo: Amanda Edwards/WireImage
Though he's made a few appearances as himself, it appears that Will Ferrell is dedicated to doing the majority of his press for Anchorman 2: The Legend Continues as Ron Burgundy. Sacha Baron Cohen has really been the only actor in recent memory to try an in-character press tour, but Borat and Bruno were only familiar to cult fans of his TV show, and the Dictator was new. Ron Burgundy is an icon whose return many people have been demanding, and Ferrell is seizing the opportunity to trot out his mustache, flute and catchphrases as often and in as many places as possible in the run-up to the sequel's Dec. 18 opening. Do all these appearances run the risk of making people tired of Burgundy before the movie ever opens, or only get fans more excited? Check out all his bits (so far; there are still three weeks to go) and see for yourself.
March 28, 2012: Ron Burgundy appears on Conan to play jazz flute and announce Anchorman 2. This came after years of people clamoring for an Anchorman sequel. It wasn't the most novel approach, what with him just redoing the first film's jazz flute joke, but it was exciting in this context. Ron Burgundy was back, baby.
March 28, 2012: Tweeting begins from @RonBurgundy, but it's mostly just Anchorman news with jokes scattered about.
March 15, 2013: A year later, Ron tapes a spot for Comic Relief.
September 5, 2013: Ron Burgundy comments on the Australian elections. This is the first of what would prove to be many YouTube bits meant to target specific regions. To an American, it's gibberish, but we imagine it had the entirety of Australia in stitches.
September 17, 2013: To go after the coveted European young-person demo, Ron Burgundy hosts the MTV EMA nominations special.
September 27, 2013: Here is another example of the regional focus, with Ron Burgundy discussing the Australian Football League's Grand Final.
October 3, 2013: Ron Burgundy helps honor Anchorman producer Judd Apatow at the San Diego Film Festival.
October 4, 2013: Dodge starts putting Durango ads up on their YouTube page starring Ron Burgundy. It is later revealed that he shot 70 of them.  Not only are these surprisingly and consistently funny, Forbes later reports the Durango saw a 59 percent increase in October sales from the previous year. As Ron is in a completely new and specific situation, he can't lean on past jokes, which makes it all feel fresher; it is a slam dunk of a campaign.
October 30, 2013: While promoting the movie, Ron Burgundy is also promoting his autobiography, Let Me Off at the Top! My Classy Life and Other Musings, which is why we have this video directed at "generic UK readers."
October 31, 2013: Here Ron Burgundy discusses Halloween (and British Halloween). The problem with these short anchordesk bits is that there is just so little to them. Their only viral potential is the fact that he's in them, and doing so many of them dilutes it a bit.
November 4, 2013: More Australia love, as Ron Burgundy discusses the Melbourne Cup.
November 5, 2013: Here's a fairly funny anti-piracy PSA where Ron Burgundy thinks he's doing an ad for prostitutes. It's a good contrast of how much he cares about whores and how little he cares about film piracy.
November 6, 2013: To promote his upcoming book, The New Yorker excerpted a chapter. In it, Ron writes about how his father and grandfather and great-grandfather were all gifted news anchors, despite TV not existing at the time. It's great, deepening the character while also still being really funny. You also get some fantastic Anchorman-y names like Snack Reynolds, Tink Stewart, Race Bannon, Kick Fronby (Charlotte), and Ass Perkins.
November 9, 2013: Another bit directed to an English-language-speaking foreign country. Here Ron Burgundy discusses the series finale of the popular Irish TV series Love/Hate. We can only imagine that in Ireland this is as exciting as if Ron Burgundy had discussed the finale of Breaking Bad. Which he totally should have.

November 10, 2013: Ron Burgundy promotes a contest by listing the Top 10 Reasons to Hang with Ron Burgundy.
November 10, 2013: At the 2013 MTV EMAs, Ron Burgundy presents Eminem an award, hits on Katy Perry, and tours Amsterdam with Daft Punk.  The Eminem and Perry parts are underwhelming, partly because they rely on the other two's comedic timing, or lack thereof. The tour of Amsterdam, however, is fun. Like the Dodge ads, it forces Ron to do something new (like confusing Daft Punk with aliens).
November 11, 2013: More funny than it needs to be, here Ron Burgundy announces a contest to join his news team.
November 19, 2013: Let Me Off at the Top! goes on sale. Like any book supposedly written by a character, the joke of its fakeness wears a little, but like that New Yorker excerpt there are a lot of funny moments, especially ones where Ron interacts with real historical figures that he can't in the movies. Here's a super funny example:
"Year back I was in New York City and I found myself in a tricky situation with professional blowhard Norman Mailer… We were at Clyde Frazier's place on the Upper West Side of Manhattan. Mailer must have been waiting in a broom closet for me for more than an hour when he jumped out and began whacking me with a hammer. I took as many blows as I could until I unleashed the Ole Doomsday from Dublin, Tom O'Leary. That was all she wrote for Norman."
November 20, 2013: There was a book signing for Let Me Off at the Top! in LA and Ron Burgundy himself showed up.

November 20, 2013: In maybe the low moment of this press tour so far, Ron Burgundy appears on Conan and sings Loverboy's "Working For The Weekend" in honor of his friend Mayor Rob Ford. But that's pretty much as far as this joke goes, other than an obligatory flute solo.

November 25, 2013: Ron Burgundy discusses the premiere of Doctor Who. Well, actually, he just gets very confused by its title.

November 25, 2013: After appearing on the Australian talk show The Project as himself with the rest of the sequel's cast, Ferrell then left and came back on as Ron Burgundy. The parts where they ask Ron questions kind of stink because Ferrell is basically improvising with incapable partners. However, things pick up when he and famous Australian TV journalist Ray Martin talk about their shared history.
December 1, 2013: In what will probably be a bizarre delight, Ron Burgundy will announce for TSN at the Canadian Olympic trials for curling, better known as the Roar of the Rings. (Other TSN promos: "Battle Cry" and "Message for Vic Rauter.")
That's it…for now. But there are still three weeks of Burgundy pavement-pounding to go. We will update this post for the movie's December 18 premiere.