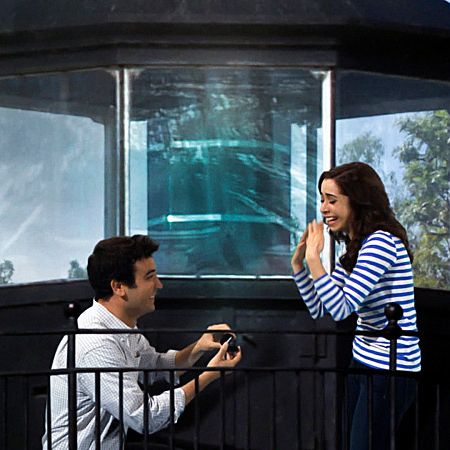 Is more of the Mother enough to end the cold streak? When paired with callbacks to zitch dog, the Proclaimers, and the mysterious absence of Robin's mom, as well as a spoof of New York City's insatiable appetite for "cool secret bars" and the return of Curtis and Linus, I'm going to venture a yes.
I was a little apprehensive going into last night's episode, which promised to continue the outlandish battle between Robin and Mrs. Stinson (Frances Conroy) that began in "The Poker Game," the episode that, in my opinion, started this season's downhill slide. When Loretta first tore off her earrings at the sight of Robin in her blouse (the writers never neglect this detail of girl fights), I thought we were in for a tiresome 22 minutes. But the plot was nicely balanced by a more emotional ending. Until Robin mentions her mom's scrambled eggs could beat (accidental pun) Loretta's any day of the week, I'd almost forgotten that this character has been anonymous throughout the series, and no sooner did I think, "Oh, riiiggght" then Future Ted gave us a little précis of what we know so far: Robin's mom is afraid of flying and once got stung by a jellyfish. (The flashbacks looked real enough to make me wonder if I'd forgotten those scenes, but I am 98 percent sure they were reenacted.)
The scramble-off was a little silly, but it was offset by the divinity of Loretta's eggs: ZZ Top almost wrote "She's Got Eggs" for the former groupie, the Dark Side of the Moon lines up perfectly with their consumption, and the meal brings Barney back to a point in childhood before he peed his shorts in front of 350 Webelos. And speaking from experience, you can never overestimate what a person who doesn't know how to cook doesn't know about cooking, so it felt right for Robin to look for an egg-cracker and then instead decide to "prescramble" them in their shells. It wasn't exactly vice-girl Robin, but it worked. Finally, Loretta's parting burn about grandchildren effectively brought us back to more serious territory, which is that Robin can't have kids (though why did Loretta later say "so no grandkids" as if James doesn't have children, or adoption wasn't an option?!). It's also interesting that, for now at least, Robin's mom is not expected to make it to the wedding, as she would have been a new character, and presumably allowed for fresh backstory.
On to the Marshall and Daphne road trip: No disrespect to the actors, but Mrs. Mosby and Clint have exhausted their usefulness on this show by now, so other than Clint's "blood attack," I didn't find his hippie antics amusing. However, I was happy to see the "reluctant travel companions" get around to playing zitch dog, or at least one of them, since Daphne is not participating. It was also satisfying to watch Marshall give Daphne a piece of his mind, since I still haven't forgiven her for sending that text to Lily, and I wouldn't expect Marshall to have done so either. It's unfortunate that the likable Sherri Shepherd has to be so unlikable here, but at least there's continuity, so when she says "drill, baby, drill" and lectures Marshall for his ineffectual worldview by way of explaining why he's paying the tolls while she's picking the music, it's in keeping with her character. Plus, her double entendre of a point — "the world is always going to push you around until you learn to go nuclear" — is not without its own logic. But she'll pay the price. Let's see if "I'm Gonna Be (500 Miles)" grows on her the way it did Ted in "Arriverderci, Fiero."
Finally, Ted. Curtis, the solicitous front-desk clerk at Farhampton, returns to shame Ted for his singleness with his faux-concern, once again warning him that the lighthouse is intended for lovers. A shirty Lily, on fire from her early-morning Kennedy package, is unusually glib: "Take this normal-sized chick up to the lighthouse and quit bothering us with your dumb love-life stuff." If she wasn't understandably livid with Marshall, and also being attended to by Linus (Jim Belushi's son, Robert), her awfulness to Ted wouldn't square — although when he says things like, "How many places have I ruined forever by being there with the wrong girl?," it's easy to sympathize with both Lily and Cassie (Anna Camp is back) for more or less telling him to shut up. But his disconsolate attitude obviously leads to the flash-forward of Ted at the lighthouse less than two years later to propose to the woman of his dreams. If there's one complaint I have with the Mother, it's that having her align so perfectly with Ted that she echoes his every mawkish statement makes their romance a little too one-dimensional and check-boxy — I wouldn't be surprised if she did share his interest in coins — but then, this is only a brief snapshot of the two of them together, and details like, "When you vomit, I vomit," feel realistic for lots of reasons. It's great to see Josh Radnor and Cristin Milioti in scenes together, and seeing as we were all losing faith, the timing couldn't be better (which supports my theory that the writers are carefully planning the clunkers).
What I liked:
Zed Zed Top and their ilk.
"This is why children should not have toys." (Irrational blaming is one of my own worst qualities.)
Barney for once being disgusted by his own sexual innuendo.
What I didn't like:
The continuity of the Kennedy package is great, but Lily breaking a glass at every law-related word was too on-the-nose.
"I trust that a piece of poop is going to fall out of my son's butt." Gag.  
The inconsistency in Ted's vomit boasts. Last season, he implied that he puked after going to Robots v. Wrestlers solo, so the streak from  '93 would already be over.