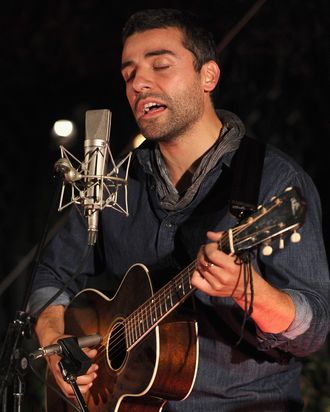 Oscar Isaac.
Photo: Kevin Winter/Getty Images
Not to be outdone by the Saving Mr. Banks sing-along this past weekend, the team behind Inside Llewyn Davis threw their own musical soiree last night in Santa Monica, honoring music producer T-Bone Burnett with a three-hour concert of folk and bluegrass inspired by the new film from the Coen brothers. There was a lot of star power in attendance at the intimate Buffalo Club, including Barbra Streisand, the sort of influential Oscar voter who's often asked to present the trophy for Best Picture and Best Director, two of the very crowded categories that Inside Llewyn Davis is hoping to break into this year. But with some of the better-known cast members like Justin Timberlake and Carey Mulligan absent from the night, it fell to the film's lead actor, Oscar Isaac, to headline the concert with a handful of soulful songs.
The up-and-coming Isaac has long distinguished himself as the best part of not-so-great movies like Sucker Punch and W.E., and in Inside Llewyn Davis, he finally gets a star vehicle worthy of his talents: As a sixties folk musician doggedly devoted to preserving his authenticity, Isaac dominates every scene in the film, many of which are long single takes that feature the actor crooning and playing guitar like he was born to have a career in music. (In fact, Isaac has been playing in bands since high school and still regularly gigs around New York City when he's not filming.) Last night, Isaac proved equally mesmerizing onstage, especially during an encore performance you can check out below, where he sings "Fare Thee Well (Dink's Song)" all by his lonesome.
Isaac is a worthy contender for a Best Actor nod this year, but that category is jam-packed with mortal locks and Hollywood veterans, many of whom will win extra points from the Academy for enduring physically arduous roles of intense suffering. (You can thusly expect to see All Is Lost's Robert Redford, Dallas Buyers Club's Matthew McConaughey, and 12 Years a Slave's Chiwetel Ejiofor in the top five come nomination day.) Unless you count learning a new way to pick guitar for the film, Isaac wasn't forced to physically suffer for his craft, but his sensitive singing could give him that extra oomph he'll need to contend this year, especially if more voters get to see his act live. The fictional Llewyn Davis was ignored in his time — as the Coens script him, he has the misfortune of serving as a warm-up act for soon-to-be folk superstar Bob Dylan — but let's hope Isaac isn't as unjustly passed over in his.