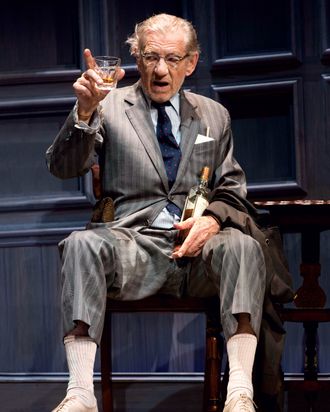 Ian McKellen's assistant, cook, and masseur, a lithe, bushy-bearded man named Steve Thomson, meets me at the entrance to a palatial Tribeca penthouse. "Sit wherever you like," he says, gesturing into a vastness of blood-orange sectionals, accented with matching rugs and walls, chain chandeliers, and exposed timbers: a Moroccan bordello crossbred with a Dumbo loft.
Both assistant and apartment come via McKellen's most famous gig, as the wizard Gandalf in The Lord of the Rings (Thomson was a masseur on the set; McKellen's crash pad belongs to director Peter Jackson). The second film of the prequel Hobbit trilogy, The Desolation of Smaug, is out next month, but the job that brought McKellen to New York arrives first: a Broadway double bill with fellow knight Patrick Stewart in Waiting for Godot and Harold Pinter's psychic slugfest, No Man's Land.
As comfortable as McKellen looks when he finally sinks into a couch, in a turtleneck (also orange) and tan slacks, he hasn't added any personal touches chez Jackson. All actors grow accustomed to borrowed finery, and McKellen has traveled farther from home than most: from war-rationed Lancashire to Laurence Olivier's National Theatre; from a closeted Cambridge education, where he shed his northern accent, to a wedding season that one of Britain's first openly gay actors still finds "unimaginable"; from coolly perfect West End soliloquies to the green hills and green screens of Middle-earth.
Yet McKellen, who's done Broadway only a handful of times since Amadeus in 1980, considers Waiting for Godot a homecoming, right down to the Lancashire accent he's revived to play Estragon. The wretched tramp turns out to be the perfect part for a 74-year-old titan who's already conquered King Lear. Though usually enacted by the middle-aged, Godot is "a play about old people," he says. "It begins with an old man complaining about the state of his feet, and another complaining about the state of his prostate." McKellen was diagnosed with prostate cancer several years ago. "I assure you, when you're my age, these are daily considerations."
McKellen was waiting for Gandalf in 2008 when the director Sean Mathias asked if he'd join Stewart, his good friend and onscreen X-Men archenemy, in Godot's first incarnation in London. The Hobbit trilogy spent years in production limbo, during which he came to ask himself "whether I wouldn't rather be doing something else."
In the end, he returned: "It was another year of my life, no regrets at all." But for all of McKellen's movie credits, including art-film breakthrough Gods and Monsters and the self-produced Richard III, he was surprisingly late to the medium. Unlike Stewart, whom he'd advised against moving Stateside for Star Trek, McKellen didn't follow his esteemed contemporaries across the Atlantic until he was nearly 60.
"He was very ambitious," remembers Mathias, who was McKellen's partner in the early eighties. He thinks McKellen grew "a little bit jealous" of Judi Dench and the like. But he had reasons for hanging back. "He had a dazzling stage career," says Mathias. "They all went to Hollywood—Caine, Connery, O'Toole, Burton, Hopkins—and they more or less left the stage. The stage took up Ian's energy, and I think he probably wasn't as good on film."
Mathias and McKellen agree that movies made him a better actor, but the real turning point, personally and professionally, was coming out on BBC Radio in 1988. Though McKellen's friends knew he was gay, the effect was transformative. For one, he says, "I don't have the nightmares that I used to have."
McKellen's mother died of breast cancer when he was 12, and he'd suffered ever since from recurring dreams in which she was alive and he was defending himself over some unspecified sin—possibly murder. "I think the person I thought I killed was actually myself," he says now. "They stopped when I came out." He believes his work improved virtually overnight. "Until I came out, my acting was all about disguise, and thereafter it became about telling the truth."
It's a good thing, because it would be impossible to put across plays as head-scratchingly abstract as Godot and No Man's Land without tapping into their pathos as well as their verbal slapstick. McKellen finds the vulnerable ache in dotty Estragon and the "desperation and shabbiness," as Stewart puts it, in the pretentious chancer Spooner in No Man's Land. Godot has a repeated "Who's on first?"–style gag, in which Vladimir reminds Estragon whom they're waiting for and Estragon says, "Oh." Nathan Lane, Broadway's last Estragon, wailed it like Jerry Lewis. McKellen makes it sound like a dreamer remembering, over and over, that the nightmare is real.
It isn't surprising that Stewart plays the peppier, cockier Vladimir. Stewart recently married a woman in her thirties (McKellen officiated) and has been experiencing a public second adolescence of sorts. "Ian is very witty and can be very ironic," Stewart says, "whereas I tend to be a bit more of a fool. If you happened to see my Halloween lobster tweet—I can't see Ian lying around in an empty bath in a lobster costume."
McKellen is happily old-fashioned. He's never been to therapy, he still smokes, and he still considers sellout a curse word. When I suggest that Lord of the Rings is a well-deserved payday, he bristles and narrows his pouched eyes. "If I have any audience, they can know that anything I am in, I would go see, with the expectation of being really satisfied."
McKellen's next film role will be in A Slight Trick of the Mind, playing a long-retired Sherlock Holmes. Only infirmity would force his own retirement. A few years ago, he tried taking half the year off. "I stayed at home, basically—saw friends, went to the theater, read the paper properly, caught up with TV. Had a whale of a time. But then it occurred to me that while you're sitting down doing all these nice things"—here he pauses for a long sigh—"there'll come a time when you can't get out of the chair. And I'm terribly aware of it."
Doing two demanding plays in repertory, so far away from his townhouse on the Thames, is tougher than he expected, the comforts of Tribeca notwithstanding. "I love working in New York," he says. "But it's not necessarily something I'd be able to do in five years' time. I suggested to Patrick that we put it on the posters: FINAL PERFORMANCES IN NEW YORK. Ooh, he didn't like that! But I know, for me, I won't be back. This is it."

*This article originally appeared in the December 2, 2013 issue of New York Magazine.