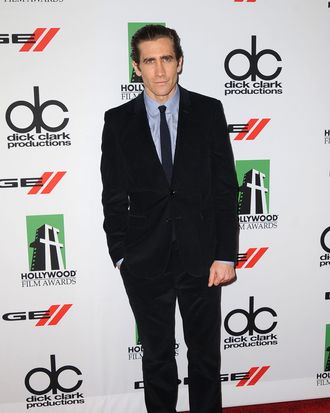 Jake Gyllenhaal.
Photo: Andreas Branch/?Patrick McMullan
Jake Gyllenhaal, who was in awards-campaign mode when he showed up for a lunch on Friday to promote his Oscar hopeful Prisoners, brought a souvenir from the shooting of his most recent film, Nightcrawler: a heavily bandaged left hand. Gyllenhaal says that in one scene, he punched a mirror so hard, it shattered and left him in urgent need of stitches. What a trouper! "If you're committed, sometimes, accidents happen," he told Vulture. "But we got it on film, so it'll be in the movie, I hope!" His character, previously described as an underground crime journalist, is someone who "films accidents and crime scenes for the local news." "I wouldn't really call him a journalist," Gyllenhaal said. "I would actually consider him a cinematographer. He's a total observer, and a visual artist."
We also asked Gyllenhaal what's up with his David O. Russell film, Nailed, which has long been delayed but recently took a big step forward, beginning test screenings — despite the fact that it's not completely finished — and earning a PG-13 from the ratings board. Does this mean it might eventually see release? "I wish I knew!" Gyllenhaal said. "People ask me questions about that one, and that's how I discover what's happening with it. But it was made by a brilliant filmmaker, and there are amazing people involved, and it has been a very interesting journey. Every movie that I've been involved with in my career that's ever been fascinating has always had an interesting journey." Jake Gyllenhaal: actor-y actor.