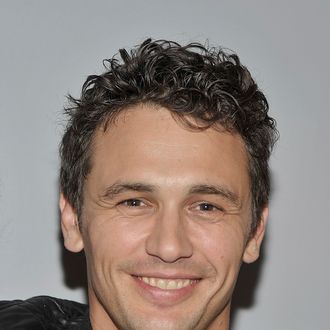 Photo: John M. Heller/Getty
It has been a while since we checked in with James Franco's blogging escapades, but today we must alert you to a gem: James Franco has written an ode to Harmony Korine and to his own Spring Breakers character, Alien. Oh yes! There's a Lolita reference, a mini Britney Spears dissertation, and at least one example of glorious name-dropping:
As Harmony Korine's friend Werner Herzog said to me on the phone call of all phone calls—I was out in North Carolina, sitting in a little Mexican restaurant called Cocula that I frequent on my lunch breaks from the low-residency writing MFA program at Warren Wilson College, just staring out the window that's frosted over with a map of Mexico, at the dirty field across the roadway—when he told me that my performance in the film made De Niro in Taxi Driver look like a kindergartener.
Also included: a defense of the film's plot deficiencies ("Fuck a story.") and a bit about how Alien transcends all those who came before him: "I can't even take credit for Alien. He is Harmony's. As he says, Alien is a gangster mystic. A clown, a killer, a lover: the spirit of the age. Riff Raff wants to take credit for this creation, but that simplifies it." He curses a lot, so that you know he means it. The full thing — with a requisite, if improperly spelled Sprrraaaang breaaaaak — is here.