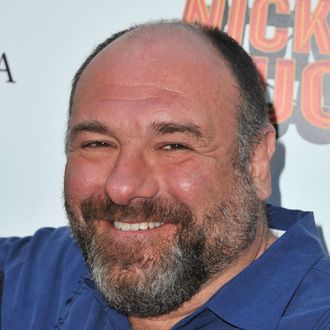 Photo: Angela Weiss/Getty
James Gandolfni: wonderful actor, stand-up guy, but apparently not much of a morning person. In GQ this month, Gandolfini's friend Michael Kobold describes some of their time together; Kobold met Gandolfini when he made the actor a watch, and the two became friends, so much so that Kobold says he often stayed at Gandolfini's home.
I'll never forget one morning I stayed with [Gandolfini]. His longtime assistant gave me a warning. 'Be careful in the mornings,' he said. 'He can be very grumpy.'

I'd been scanning The New York Times for hours when Jim shuffled out, grumbled at me, and sat down to read the New York Post. For five minutes or so, we had a one-sided conversation as I happily chatted away about some British sailors who'd been kidnapped by the Iranian navy, receiving only grunts in return. Jim's grip on the paper began to tighten until he was practically crumpling it.

'So help me God, if you ask me one more fucking question, I will get you deported, you fucking German!' he yelled. Jim's temper could run hot, but it also passed quickly. Ten minutes later, after some coffee, he smiled at me. 'I'm sorry, Kobold, but you can be so fucking annoying in the morning.'

'I'll try to be less happy tomorrow,' I told him.

'No, don't do that. Just don't direct all your happiness toward me.'
Ah, James Gandolfini, perfectly expressing every non-morning person's lament.