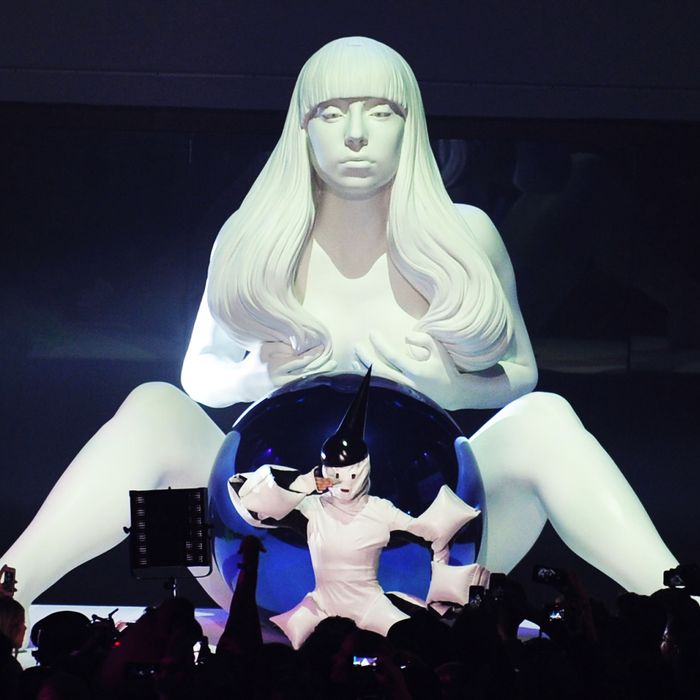 Lady Gaga performs at artRave on November 10, 2013 in Brooklyn, New York.
Photo: Bryan Bedder/Getty Images
Lady Gaga's #ArtRave wouldn't — in fact, barely did — exist without that hashtag. Or all sorts of hashtags; this event was a product of our hashtag economy, an album release party for #ArtPop, a streaming-video promo sanctification for Gaga (or yet another one) that also served as a kind of symbolic, pagan arranged marriage between her and the idea (or at least some idea) of Jeff Koons, who made the album cover for her. His "gazing ball" series, a high/low riff on classical statuary to which he appended mystically infused globular lawn ornaments, was the basis for that cover depiction of her, which you had to walk around when you entered this temporary temple in the Brooklyn Navy Yard: a huge white, nude statue of Gaga herself, legs spread, hands on her breasts, a big reflective blue gazing ball between her knees, like an out-of-body womb. She's not looking down into it, as if examining herself, or hoping for a crystal ball glimpse of her future, but rather looking straight ahead, over it, across the length of the massive room to the wedding cake stage where she would ultimately perform.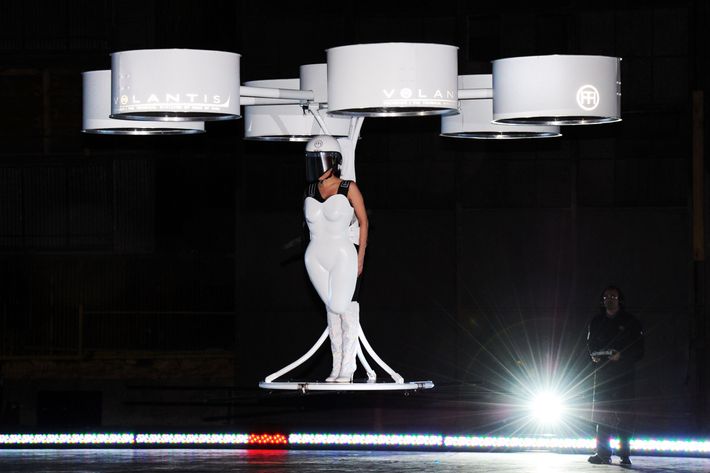 I was there, along with an assortment of fashion-art VIPs and boys wearing high heels, and Jeff Koons himself, happily squeezed into a tight little suit fresh from a talk at Christies, where his Balloon Dog (Orange) is set to be sold for millions on November 12. Earlier in the evening, there was a demonstration of the Volantis "flying dress" (#!) and, as we milled about waiting for Gaga to finally perform, there were Marina Abramovic Institute–branded videos of Gaga doing the "Abramovic method" upstate with the artist (it seems to involve a lot of walking slowly dressed in all-white, and spending time clutching crystals), who was, along with #momaps1 director Klaus Biesenbach, present, too (#mai). And there were four other mock-up Koons statues in the room as well (giving a preview of his coming Whitney museum retrospective; #whitney?). Even if she sold "Applause," her first single to this album, all the way back in August to the Kia Soul, there were no signs of the #soulhamsters.
Koons for his part, seemed amused when I talked to him, in between posing for pictures with a young man in an inflatable blue costume with a sign that read "Suddenly the Koons is Me." The location was supposed to be secret, with many of the mostly stylish — some desperately so — people mostly boat-lifted in from the 35th Street ferry dock in Manhattan. It was held at the Duggal Greenhouse ("the hub of Duggal Energy Solutions — a green corporation dedicated to resolving global electricity, water, and agriculture problems") right on the East River: behind the big Gaga backside, the curtain wall framed the Manhattan Bridge.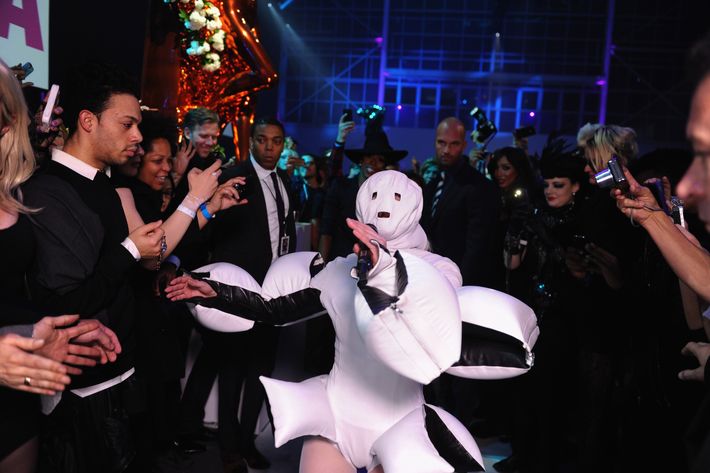 Though at no point did it threaten to become an actual rave, chaotic and decentered. It was something like a big, inattentive art opening, or a kind of Comic Con mixer for the enduring glitter-flecked club kid, with several open bars and people milling about endlessly, posing with the people who came dressed up in "rave" character. The event, mostly staged for Gaga's cameras as well as those of the feverishly Instagramming guests, was surprisingly well organized for something so manifestly difficult. The idea was clearly to be in control of it — wrist bands were checked even on the Brooklyn side of the water.
But when she finally emerged next to her statue, her face covered in a sack with eye holes, accessorized with what appeared to be floaties, there was something slightly off about her, as if her bravura vulnerability (and well-publicized recent splits with her inner circle) was giving way to something else. She described Koons as "a very special artist, a true hero" and, in her whispery crack-up tones,  said that "when I met with him for the first time I knew that he understood" that by their teaming up "he was giving a gift to young artists all over the world. I said Jeff don't you realize that by believing in me" he allowed for the dream that "maybe one day" the other artists in her audience "could be meeting with you they believe they could — sitting in front of their canvases with their paintbrush … that that light which shines so bright inside of them that passion that someday it could be worth something to a true art hero."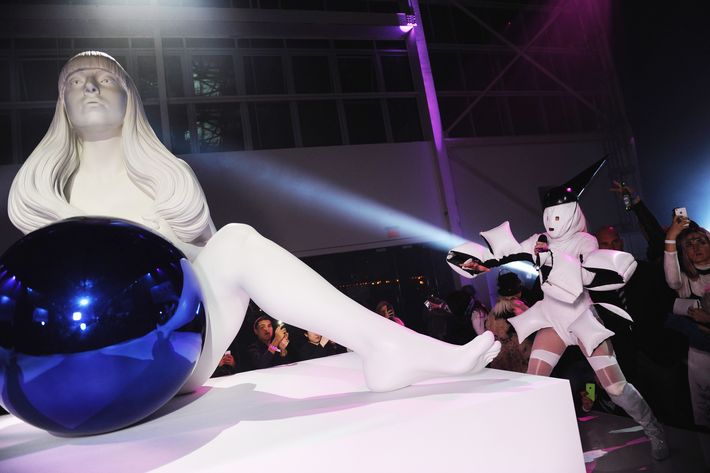 Which is borderline gibberish, of course. (For what it's worth, she also talked about how she'd struggled to "give up" drugs and alcohol and still be creative.) Three years ago, when I saw Gaga perform at Radio City, at the end of her Monster Ball tour, she had the confidence of a pop star with a mission: She was there to empower the awkward, and the weak, and the audience, which was split between eagerly self-expressive teenagers and stridently up-to-date middle-aged gay men (Marc Jacobs was still with Lorenzo Martone then, and they were there). But this time was different: She was looking, seemed to be looking, outside of her self-reflexive charismatic force field toward a couple of artists who are old enough to have known Madonna when she was her age, and will never be as well known as she is already. It's less of a collaboration than a feeling that she is searching to attach herself to something bigger than herself, something less evanescent than pop, or maybe just something to contain herself before she flames out completely, like a hashtag in the wind.