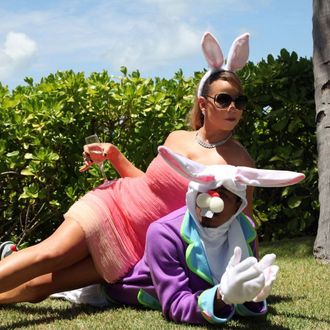 Photo: Mariah Carey/Facebook
Mariah Carey took to Facebook last night, at "3:30am (11.14)," sat on her bathroom floor, and typed out the World's Most Wonderful Letter to her fans — admitting that one of her sound engineers accidentally put an older version of her new single, "The Art of Letting Go," online for the Facebook premiere. It wasn't the final mix, and she feels just awful about it. Read the entire thing below, and please send your best wishes to that poor sound engineer. He'll need them.
Hey Lambs, I have to tell you this, I can't do what I always do and say nothing at all. It is 3:30am (11.14), and I'm sitting on my bathroom floor, very upset by some news I just got from a close friend and employee. Lucky her, she was "nominated" to deliver this message to me after the long awaited 11.11 moment and the Jimmy Fallon show, knowing how upset I would be. Not because the world has come to an end or something, but because this 11.11 listening party was so important to me on a core level as a musician, who cares so much about how my fans hear my music for the first time that I didn't even allow a snippet to be released until 11 on the dot.

To cut to the chase, a mistake was made by a brand new sound engineer whose only task was to press the space bar and upload the song to Facebook, while my team, and an incredible group of people from Facebook, partied while listening to the properly mixed & mastered version of "The Art of Letting Go" on repeat from my iPod on my home speakers. Clearly, I was focused on answering your questions during the Q&A. There was no reason for me to wonder if the final mix we were listening to in that room together was different than what you were listening to!!!!! Like I always say, I am involved with every record I make, from the inception to the completion of the song. Every nuance of the beat or vocal matters to me. Even if the differences may seem slight to you, I had put time, effort and emotions into "The Art of Letting Go" and the real mix is how I intended for you to hear the song.

Rather than remove the old version from Facebook (the iTunes version is the real one), I just figured I would put up the real mix and allow you to listen to it back-to-back, should you choose to do so and tell me what you think the differences are.

I want you to hear it like you're hearing it for the first time with me, and I will answer any questions that you have, pertaining to the song. You know that I don't comment on gossip, I typically don't respond to things like this or go into so much detail to the world, but this is something I'm upset about and I wish I would have known sooner.

There's no doubt in my mind that this sounds like a self absorbed diva on a "woe-is-me" tangent about a couple of ad libs or some other triviality, but the reality is this is me, focusing solely on the record, wanting you to hear it and experience it the right way. I love and appreciate you so much for taking the time to even glance at this 20-page "diva in distress" thesis. Thank you for letting me vent, this is another reason why Facebook rocks! You'll be hearing from me soon. Here is the REAL version of "The Art of Letting Go".

Answers these questions for me:
1. Can you hear a difference at all?
2. Can you see why I like this version better?
3. Where can you hear the differences?
4. Does the song affect you different emotionally after hearing the real version?
I feel emotionally different after reading this essay, that's for sure.