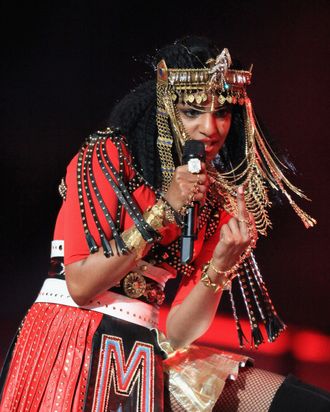 M.I.A. performs during the Bridgestone Super Bowl XLVI Halftime Show at Lucas Oil Stadium on February 5, 2012 in Indianapolis, Indiana.
Photo: Christopher Polk/Getty Images
"In America you have gang signs, and people throw up initials and stuff like that. Well, 5,000 years ago, there was thing called a mudra, which is your sitting position when you do yoga or you're meditating or praying or whatever. And you have different ones based on what you're meditating over. There's not a lot of them that are named after gods and goddesses, but the middle finger is specifically named Matangi — the Matangi mudra." —M.I.A. is still explaining her infamous Super Bowl hand gesture.