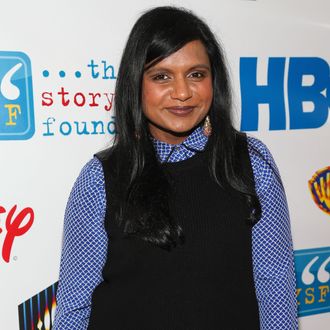 Photo: Imeh Akpanudosen/2013 Getty Images
Mindy Kaling has an open letter to teens in the newly released Rookie: Yearbook Two, in which she debates whether it's harder or easier to be a teenager now than it was fifteen years ago. On the one hand, "You have access to your heroes," she argues. "When I was 15 I used to cry myself to sleep with how much I was in love with Dana Carvey and how I would never, ever get to meet or talk to him. Now, Dana Carvey would be on Twitter and I could send him Vines all day of me doing the Church Lady and we'd probably be collaborating on a pilot." That's nice and all, but it doesn't outweigh the loss of the joys of live television.
When I was a kid you would go home and everyone would be watching the same episode of The X-Files or Friends, and the next day in school you'd all gab about how scared you were or how much you wanted to lose your virginity to David Schwimmer. Now no one watches any scripted television the actual time it's on, and it doesn't matter anyway because TV's basically all singing competitions.
She rightly concludes it is harder to be a teenager today, though she neglects to mention the pressures of Snapchat.