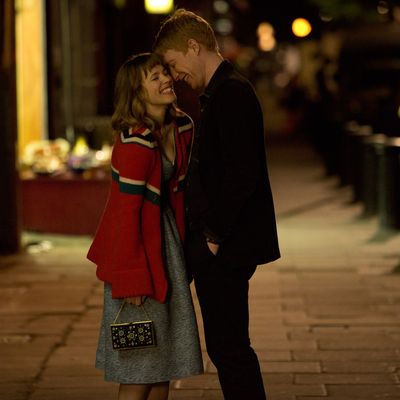 Photo: Murray Close/Universal Pictures
After his triumphs with such comedies as Black Adder, Four Weddings and a ­Funeral, and Notting Hill, Richard Curtis decided to show us the full extent of his humanity—at which point sentimentality began to flood (and bloat) his farcical instincts. The nadir was the prelude to his omnibus Love, Actually: Hugh Grant's invocation of planes hitting the Twin Towers to make the point that men and women destined to die called their families to say, "I love you." The silly movie didn't earn that reference. In About Time, ­Curtis has made a time-travel comedy to demonstrate the importance of living ­every moment fully—so fully that we wouldn't want to go back in time even if we could. It's a Sunday-morning time-travel movie.
Domhnall Gleeson plays the shy fellow whose father informs him one day that the males in the family have the power to will themselves into the past (though not the future). The father is played by Curtis's chief asset in the past, present, and probably future: Bill Nighy, who breaks the news to his son with his trademark apologetic stammer, as if he's sorry to impose. Gleeson uses his powers to woo nerdy-cutie Rachel McAdams, but comes a-cropper when he tries to change the life of his emotionally addled sister (Lydia Wilson). There's no "butterfly effect," but if you go back too many times before you've had kids, you risk returning to the present to find different ones.
The appeal of dumb time-travel fantasies can't be overestimated. They're how we cope with the finality of our choices—and our mortality. Curtis gets that, but About Time is like a sermon that starts with a few good jokes and ends with tremulous exhortations to live, live. I couldn't agree more, but I wish he went back to imparting his wisdom through high-­flying humor rather than leaden homily.
This review originally appeared in the Nov. 4, 2013 issue of New York magazine.