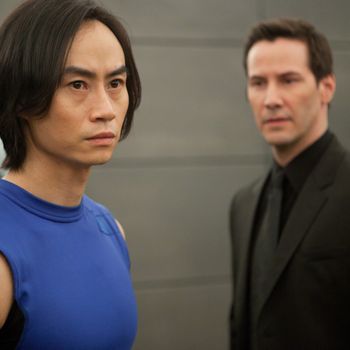 We may have had Keanu Reeves all wrong. The stone-faced star of so many action films both sublime and ridiculous proves particularly adept at playing a heavy, and directing, in his new film, Man of Tai Chi. Reeves may be a big name, but this is not the kind of glorified star vehicle you might expect. Rather, it's the kind of solid, small-scale, entertaining action flick we probably need more of these days.
It starts off as a fairly standard martial-arts tale, with hotheaded, talented tai chi student Tiger Chen (Tiger Hu Chen) getting roped into an illegal fight circuit run by shady, silent gazillionaire Donaka Mark (Reeves). Tiger knows he shouldn't be doing this; like many martial arts, tai chi isn't really about fighting. But his elderly master's beloved 600-year-old temple is being condemned for architectural deficiencies, and he needs some money, fast. (That's right. This is partly a classic let's-save-the-orphanage-and/or-community-center setup, familiar from movies such as The Blues Brothers and Breakin' 2: Electric Boogaloo – only in this case it takes place in a brutal underground fight club.) We know none of this will end well, since the film opens on Donaka watching two men fight to the death — and, when one refuses to land the fatal blow, going in and doing the job himself.
But plot is secondary here, if even that. Man of Tai Chi is basically just a series of beautifully assembled fight sequences. It forsakes stylization in favor of showing us the fighters in full motion, reveling in both their elegance and brutality. Reeves's film has some of the untethered, can-do charm of last year's Universal Soldier: Day of Reckoning, though it lacks that film's gonzo inventiveness. But Reeves, assisted by action choreographer and consultant Yuen Woo-ping (who was also responsible for the wire-fu fighting in the Matrix films), plays his cards just right: He lets shots run, he keeps his cutting and his camera movements fluid. There's a raw charge to the fight scenes that's become rare in martial-arts cinema. (In some ways, Man of Tai Chi is the direct opposite of Wong Kar-wai's The Grandmaster, which was all style, all abstraction, all formal beauty. But not everybody can be Wong Kar-wai, and Reeves is smart enough to know not to try.)
There are some stabs at greater relevance, as we see more and more of Donaka's larger plan — he's not just running a fight circuit, he's also having Tiger followed with secret cameras, every move recorded, Truman Show-like. But even that remains at the level of a B-movie's evil plot— it isn't some kind of grand statement on reality TV. And in small doses, it has a kind of modest poignancy. It helps also that Reeves makes a solid bad guy, even managing to poke fun at his image a little. We all know that he's an actor who is not known for his line delivery, so Reeves gives himself mostly clipped, generically stoic little crumbs: "Finish him," "You owe me a life," etc. When he does get his big fight at the end, he's not nearly as limber as the fighters we saw earlier, so the film slows down to accommodate his slightly cumbersome moves. But he has presence, weight, solidity— almost as though Neo has become Agent Smith.
One could easily imagine Man of Tai Chi as an anonymously workmanlike, effortlessly entertaining, second-tier action film during the 1980s and 90s heyday of Hong Kong cinema— the kind of movie you might have had to hunt down on VHS at one of those amazing, disreputable shops in random corners of Midtown. Don't get too hopeful for greatness, but the damned thing works.