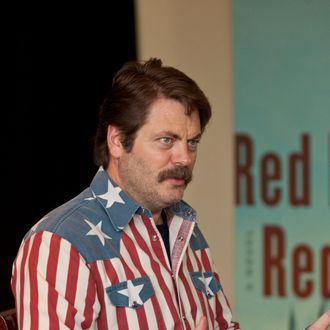 Photo: Phillip Chin/Getty
Nick Offerman has become the poster child for ultrafetishized woodsy Americana masculinity. But don't confuse him for his even-more-woodsy character Ron Swanson. Offerman has a softer side. Perhaps even a stoner side. "Ron is a wonderfully written comedy character. He's a bit of a superhuman," Offerman explained on "Wait Wait Don't Tell Me" this weekend. "And I'm a human being. So I cry, I stumble, I mince about a lot more than Ron does." Really? "Yes, I mince dandily about the house," he said. He also discussed his time as a stage combat choreographer, at Steppenwolf, the Goodman, and Offerman's own theater company.
Wait Wait panelist Bobcat Goldthwait: I thought when you were staging fights, I didn't understand it was choreography. I actually thought you had like a fight club going in the basement of these theaters.

Offerman: Sometimes it would get that way, depending on how much we employed the bong before curtain.
And for those keeping score, yes, of course Offerman won his segment.