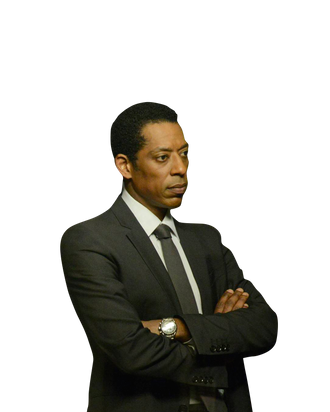 Orlando Jones.
Photo: Brownie Harris/Fox
On the Fox hit Sleepy Hollow (returning from a mini-hiatus tonight at 9 p.m. EST), Orlando Jones is Captain Frank Irving, the voice of reason in a town plagued by a mysterious headless horseman. On the Internet, he's his show's biggest fan, or at least one of them; he even runs his own Tumblr, much to the delight of Sleepyheads. We spoke to Jones, whose career spans some twenty years (MADtv, Office Space,  7UP ads) about going where few actors of his stature have gone before (again: Tumblr), engaging with fans, and why viewers should ship who they want to ship.

Your character is still one of the biggest mysteries, in a show where there are a lot of mysteries. What theories have you been hearing from fans?
Oh God, I get all manner of theories: He's a demon; he's named after Washington Irving so that must mean he's controlling everything. I'm a Moloch. I'm an angel. It's all over the place, and kind of evenly split between good, evil, and some kind of angel.
How much longer until fans know more about Irving?
I would say that on this show, you really don't know where anyone stands, you just think you do. [But] by the end of this season, you'll definitely know a lot more about him. There's a lot of mythology to Sleepy Hollow, and we really needed to set up the rules of the world, what Sleepy Hollow was, and what it looked like. We're just finishing setup. When the audience is viewing episode seven [which airs November 11], that's when everything starts. That's when the war starts to jump off. Right now you've been hearing about the war and seeing the preamble to the war, but it's about to ramp up again. After seven, it's on.
What's interesting about this show is it's so high stakes from day one.
[Producers] Len Wiseman, Alex Kurtzman, and Mark Goffman, they were acutely aware of what the rules of Sleepy Hollow were as they previously existed, and to some degree they distinctly set out to break all of them. They were like, "We're going to cast this how we want to cast this, we're not going to play by any of those rules. We're going to start off massive, we want it to be summer blockbuster big." When they told me that, I really thought it was BS. Now we're all equally obsessed, sort of like how I jumped into the fandom world. I'm a fan; I've been a fan for a long time. The only reason I wanted to do MADtv was because I grew up reading Mad Magazine because I'm a comic-book nerd. So when this happened, I went, "Let's break the fourth wall!" The fourth wall is gone.
Do you ever want it back?
No. Not even a bit. The Internet to me is about rebel culture, and I've always loved it. When I think of rebel culture, I think of rock-and-roll, or hip-hop; and for a long time now, it's been the Internet. Everything belongs to everyone now, and everyone gets to have a say. It doesn't mean the fans are writing the show, but they definitely are watching it and they get to have a say. I don't get to sit back and pretend I'm too good to talk to them. That's bullshit. Digital lets us have this conversation and make it as awesome as we want. Why can't I share fan-fiction? Those fans are artists too, I'm not more or less of an artist than the people who are writing that, or drawing fan art. I've believed that for a while, and I felt like this was the time to go, "No, I don't want it back and I'm happy [the fourth wall] is gone." It's one of the most enjoyable experiences. To me, it's theater. Immediate reaction, the second it's done. I get to be in my living room with you, trolling my own show.
You get to see the reaction like when they're walking out of the theater, to overhear their conversation unrestricted.
Exactly. The 30 movies or so I've done in my career, I've never been able to do that because there's always been a machine telling me, "You can't go to the movie theater to watch the film, that will distract the viewers. You have to go in the VIP." I'm from Mobile, Alabama — who am I shitting? We don't have an Olive Garden [there]! If you have an Olive Garden, we think you're fancy.
You've seen the fan discussions lately about Teen Wolf and the show's interaction with the fandom. I think what sets you apart is your sense of celebration and acceptance.
You don't have to prescribe to any theory, you own the world as much as we own the world. Ship who you want to ship. That's the fun of fan world. When I first went to Comic-Con with MADtv, Fox used to say, "Go screw yourselves" because they didn't see the point of going down to the Nerdville.
Oh, how things have changed.
I know! It's so funny to see them down there acting like they're all into it now. Really? How many of you have been to Artist Alley? Go down to Artist Alley, that's where the future exists. The subculture of it is kind of the most fun part of it, it's cool to see someone speak on a panel and I love that element, but the artist aspect is what I love.
One of the first things I found was Ichabod/George Washington fic. In this fandom, that's not even an out-there ship. It makes total sense in the canon.
I totally agree. That should be a ship, frankly. He talks so much about Washington and Franklin. We shouldn't pull away from that!
When are we going to get "Orlando Jones Reads Your Fan-Fic"?
Here's what I can promise you: I will get it done. It's coming this year. I'm working sixteen hours a day, but I'm getting it done. I just got some fan art yesterday that was literally photo-real. It's ridiculous. In the next 30 days, you will see a lot of new stuff coming out of my crazy camp, that is our sort of "give back to the fanfic world."