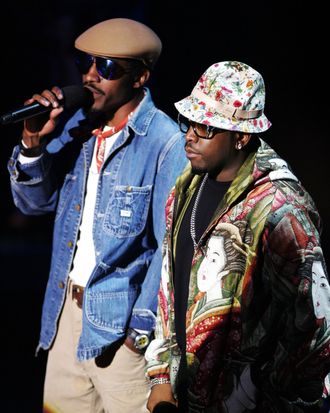 Andre Benjamin and Antwan Patton of Outkast perform onstage at the VH1 Hip Hop Honors 2006 at the Hammerstein Ballroom October 7, 2006 in New York City.
Photo: Peter Kramer/Getty Images
First, it should be mentioned that Outkast reunion rumors do not usually turn out to be true. But yes: Billboard has "multiple sources" claiming that André 3000 and Big Boi will finally reunite at Coachella in 2014. It'd be first the first of several festival appearances, according to their sources (which we really hope are not just those fake Coachella lineup posters). We will see!