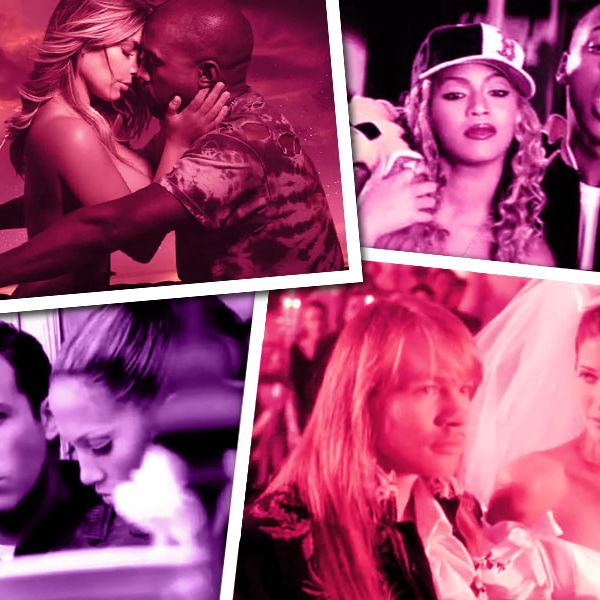 Until Kanye releases the Criterion edition of "Bound 2," we can only guess at his real motivations for the green-screen masterpiece. It might constitute his idea of art; it might be an elaborate joke about art; it might be a new Trapper Keeper ad. The only thing we are confident about is that "Bound 2" is meant to express something about the love between Kanye and his girl, Kim Kardashian. Kanye is not the first musician to make this kind of statement: "Bound 2" joins a long tradition of music videos starring real-life celebrity couples, all of whom thought they were super in love and decided to share that love with the world. But how convincing is "Bound 2," comparatively? Where does it fit on the spectrum of music video romance? Below, a thorough investigation of music video love, ranked by believability.
16. Jennifer Lopez & Ben Affleck - "Jenny From The Block"
Whenever we talk about the train wreck that was Bennifer, we start with "Jenny From the Block." It is a warning sign; things are not right in this relationship. Jennifer is more interested in her late-night iPod dance parties than she is in Ben. Ben can't even muster a smile when he is grabbing Jennifer's ass. The disconnect is right there on the screen. We should have known.
15. Britney Spears & Kevin Federline - "My Prerogative"
Everyone knew Britney and Kevin weren't forever. But he was her first real boyfriend after Justin Timberlake, so we wanted to be supportive! If that meant listening to "PopoZão" (just one time, that's enough), so be it. But in Britney's "My Prerogative," the two seem to be influenced by Bobby Brown and Whitney Houston in all the bad ways.
14. Jessica Simpson & Nick Lachey - "Baby It's Cold Outside "
Oh no, there's choreography. Like, musical-theater choreography. And fur hats. And only very minor ass-grabbing on Nick's part, as if he's not allowed to do this at home, and so he has to grab her in front of the cameras, when she can't get mad. This is not a very "steamy" video (and/or relationship).
13. Seal & Heidi Klum - "Secret"
These wounds are fresh, so it's would be unfair to speculate, but knowing what we now know about Heidi and Seal, "Secret" is a happy relic of the past. They're naked and purposely drawing attention to their wedding rings (although, hers is giant, how could you really miss it?). Marriage is first and foremost in "Secret," though there were obviously multiples of the latter kept in this relationship.
12. Nelly & Ashanti - "Body on Me"
Three's a crowd, Akon — you're going to have take a back seat here. Nelly and Ashanti broke up in real life just last year, so we'll have to deduce their devotions from this video. He scopes her out by the pool, at the club, and when she takes the stage for her solo. By the end they're not just betting on red, they're betting on love. I buy it.
11. Michael Jackson & Lisa Marie Presley - "You Are Not Alone"
"Bound 2"? Meet "You Are Not Alone." You have much in common. Kanye didn't go full nude like Michael did (although he really should have), but both videos certainly match up in their first sweet, then creepy, idol worship: Kim Kardashian is Kanye's Lisa Marie Presley. And we all know how that relationship ended up. Clothes or no clothes.
10. Enrique Iglesias & Anna Kournikova - "Escape"
Motorcycle? Check. Green screen? Check. At any rate, these two seem to really enjoy what is happening on that sink! Too bad that physical compatibility does not an everlasting marriage make.
9. P!nk & Carey Hart - "Just Give Me A Reason"
"Just Give Me a Reason" is a song about a breakup. The fact that its music video has P!nk naked and rolling around on a mattress with her husband, motocross racer Carey Hart, is really not a great sign. The two have had a bit of real life drama, breaking up and getting back together a few times, so the song must ring true. Maybe keep him out of the music video, then?
8. Stephanie Seymour and Axl Rose - "November Rain"
3:33. The tongue. You can see it. (And bonus points to this video for understanding, in some morbid way, that Axl and Stephanie could not end up together.)
7. Kanye West & Kim Kardashian - "Bound 2"
In some ways, this is the perfect Kanye video: provocative, earnest to the point of embarrassment, convinced of its own grandeur (even when others are not). And so there is no doubt in our minds that this is Kanye, expressing his real, if humourless, love for Kim. Does Kim feel it though? Does Kim feel anything, at all, except for the motor that is making her breasts jiggle so artfully? It doesn't really seem like it.
6. Drake & Rihanna - "What's My Name?"
Yes, it counts, even if Drake never got to update his Facebook relationship status. And honestly, look at these two cozying up with their bottle of wine? Has anyone ever been so in love in a music video? Has anyone ever been so in love in real life? (No, which is why Drake made all those albums.)
5. John Legend & Chrissy Teigen - "All of Me"
Confirming himself as our generation's Chris Isaak (go watch "Wicked Games" right now), John writes the sexiest ballads. None sexier than when he gets his own wife, model Chrissy Teigen, to star in the accompanying music video. The smoldering looks they give each other are sufficient for us to believe in their love, but if you stick around til the end you'll get a quick clip from their wedding.
4. Ciara & Future - "Body Party"
If you weren't convinced of the rumors that Ciara and Future were meant to be, "Body Party" should do the trick. True love means acting out the scene from True Lies for your man, and that's exactly how Ciara does it. Their interlude banter is also pretty convincing: "You know you're gonna be mine, right?" He read correctly. They are currently engaged.
3. Mariah Carey & Nick Cannon - "Bye Bye"
You can't get any "realer" than documentary-style footage in a music video. Nick and Mariah staged a wedding ceremony (intercut with scenes of Mariah journaling, genuine tears running down her smudge-free face), around the Bahamas shoot, and that's how they kept it a secret. The only acting that seems to be going on in this video is between Mariah and that journal.
2. Tim McGraw & Faith Hill - "I Need You"
There is honestly nothing more vulnerable or embarrassing than staring directly into someone's eyes while they serenade you with a country song. This is real love. This is how you stay married for seventeen years.
1. Beyoncé & Jay Z - "03 Bonnie & Clyde"
There are historical reasons (the beginning of Bey and Jay!), aesthetic reasons (Bey in a bikini top), and plot reasons (there is one) to prefer "03 Bonnie & Clyde" over all other couple music videos. But the best reason is that little flicker of a smile on Beyonce's face, even when she is trying to act tough. She can't help it! She is in love. You can see it right there on the screen.