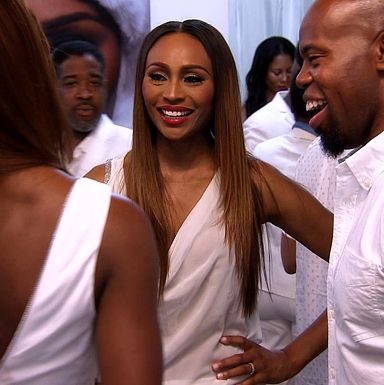 Like last year's version of our lord and savior Linnethia Monique Johnson Leakes (amen), we have ARRIVED, honey! Did the Bailey Agency School of Fashion House of Doughnuts close down? Did Kenya live to see another day after she actually put her hands on NeNe? Will Porsha make it through an episode without pronouncing some word or phrase incorrectly? It's the first episode of the season and I'm already riveted. Welcome back, friends.
For those new to these parts, hello! I started recapping RHOA last year, but have been a fan from the first mention of Big Papa and last sight of NeNe's original nose. I'm a Ph.D. student who lives in Seattle; I created the Feminist Ryan Gosling blog and book; I also recap Scandal; and I've been professionally black for 36 years. You should also know that I look forward to the return of this show the way other people look forward to birthday parties and holidays, which is 100 percent normal.
Did you guys watch I Dream of NeNe, also known as The Gregg Leakes Hostage Situation? That man's apology tour is going to last the rest of his natural life, and it's painful to watch him skulk around in the opening scene, literally picking up scraps of paper in some sort of self-inflicted penance as NeNe opens Tiffany vases and cheese boards and swans about a room holding no fewer than 78 paintings of herself. Is that a thing, gifting life-size portraits of the couple whose wedding you're attending, but only if they're spray painted in the style of a T-shirt artist on the Jersey shore? Because I've stupidly been ordering from registries for years when I could have been commissioning wall-size tributes to my nearest and dearest. If any of the Real Housewives franchises are ever canceled, the cottage industry of Indulging in Every Narcissistic Whim will tank faster than Porsha and Kordell's marriage. I thought NeNe was going to send Old Gregg to a nursing home when he dared suggest she stop saying "my wedding" and refer to it as "our wedding," but she was too distracted by an Hermès gift box from Theresa and Joe Guidice that's sure to become property of the feds to notice that he was speaking to her.
I'm just as shocked as you are by this next bit of news, but I am ready to be on Team Porsha this season. I'M NOT THERE YET, but I'm trying to approach her situation with compassion and sympathy. She played the part of the spoiled, pampered princess for most of her life, but I think this divorce is bringing her to a new level of consciousness about who and how she is in this world. After she found out that Kordell wanted a divorce on Twitter, which I wouldn't wish on my worst enemy, she met with attorney Randy Kessler, the same mothereffer who helped NeNe divorce Gregg. In a move that was heartbreaking and unbearable to watch, Porsha tearfully told Kessler that she would go to the scheduled deposition, but wanted to craft a fix-it list for Kordell to "deal with his demons" in the event that they could work on their relationship and get back together. I was RIGHT THERE on the sympathy train with you, Porsha, but this move made me throw myself onto the tracks and hope I had enough momentum to roll all the way back to the station. According to Porsha, Kordell "needs to say no clearly" before she feels like she's exhausted all of her options.

Porsha.
Young, sweet, dumb Porsha.

Waking up next to someone who tells Evan Williams and the Library of Congress about your divorce before they roll over and tell you is the loudest "NOPE!" in the history of mankind. But she has secrets to reveal, nose-contouring-makeup artists to pay, and a reckoning with God before she's ready to let go. I think that's why I'm sympathetic to her this year; Porsha's entire identity was wrapped up in being a wife, and she literally doesn't know who she is without Kordell, no matter how terribly he allegedly treated her. Porsha's mother, Tina Knowles, smothered a dog with her tears and reminded her that Kordell was the kind of bastard that would let her lie in a hospital for a week after a miscarriage and only visit one time, and that the failure of the marriage wasn't on Porsha. "You did nothing wrong — you loved him like the Bible said to love him, he was just the wrong DAMN one." I can't even look at a Bible without one of us bursting into flames, but I BELIEVE YOU, MAMA KNOWLES.
I'm also sort of amused by Cynthia this time around. When we first see her, she's taking down the giant pictures of her face (SERIOUSLY, Atlanta) at the Bailey Agency School of Fashion and House of Doughnuts and her assistant is saying good-bye. I thought she was closing up shop, but she was just psyching us out and is instead moving into a warehouse her husband, Peter, purchased without telling her. Cynthia has made it pretty far in life, raised a wonderful child, and successfully managed her own career and business — can she REALLY not see that her drunk, shitty husband is using her for money? Peter purchased this warehouse without telling her, even though he used her money to do it, and now that he's moved her into the space, he's also going to be her landlord? AND the previews reveal that his business, BarOne, is going into foreclosure? He's doubling down on your bank account, jerk! Remember when Cynthia disowned her family for even suggesting that Peter was a lousy thief? He's like Yogi Bear, but instead of picnic baskets, he will snatch the last coin out of your life.

Cynthia will obliviously celebrate her own inevitable downfall by throwing a white party at the new studio, and everyone is invited — even Kenya, who came twirling back into the Bailey Agency School of Fashion and House of Doughnuts like nary a coochie crack had ever been seen, even though Cynthia hadn't talked to her in months. She's had a crazy summer, largely owing to the fact that she was evicted from her apartment, but she's back and ready to wear everyone down to a nub with her sob stories and disillusioned rants. Kenya reserves the right to be pissed off that no one contacted her this summer, even though she exploded like Chernobyl the last time she saw the ladies and left oozing chemical burns on every friendship she had formed. Cynthia kindly points out that Kenya "has no reason to be salty," but that's not going to stop her from immediately comparing a few friends having a busy summer to people dramatically "putting daggers in her back all the time." The biggest dagger of all was that NeNe dared to invite Walter to her wedding, which Kenya could not forgive even though she didn't bother to go. The great thing about Kenya is that like most generous souls, she will always remind you when you forget that the world revolves around her. Bless.

Phaedra has a new baby, Dylan, and a new house in Bunkbed. Punkinhead? Buckhead, a ritzy suburb of Atlanta that she's deemed "the 90210 of the South." She's pretty much the same though understandably more tired, since she has "bodies to embalm" and Parisian-inspired backyards to plan. She's angry at Apollo for yawning even though he's ripping the house down to studs in an effort to redesign it to her liking. In the span of two minutes, Phaedra called her newborn child Michael Jackson, insisted that Ayden loved being a big brother even though all video evidence shows the exact opposite, and referred to raising babies as "working like a Hebrew slave." I'm telling you, she's exactly the same, just slightly groggier.
Kandi Will Buy and Sell You Burress is also doing quite well. Her houses look fabulous, and when we first see her she's happily making breakfast for Todd — in a loving way, not in an against-my-feminist-principles way. Her mom is not pleased with their engagement for some reason, but Kandi is like, "Hello, I wrote the song 'No Scrubs,' please relax." Todd wants them to work it out, because he's a dreamy angel man with a good head on his shoulders, but he also wants Kandi to know that Porsha and Kordell were fine "until you all messed it up," meaning Kandi and the "get fresh crew" on their trip to Las Vegas last year. Damn, Todd! Porsha and Kordell were doomed long before her friends tried to get her to lighten up and have fun — this is a man who apparently locked her out when she came home later than he preferred!
Finally, everyone shows up for Cynthia's grand opening at the secret warehouse she didn't know she paid for — Derek J is wobbling his sausagey legs around on heels, NeNe makes sure her name is on the list, and Kenya is on defense from the moment she arrives. NeNe gives a hearty laugh when Kandi asks if she's seen Kenya, and as soon as Phaedra locked eyes on her, Derek J whisked her away. Cynthia decides to give a tour of the place, and soon her group meets up with the group trying to avoid Kenya. All we want is life beyond the Thunderdome, but Kenya is incapable of letting sleeping dogs lie, so she picks up the puppies of last season and shakes them until their little heads threaten to snap off their bodies. Basically, she starts a fight with NeNe right away.

She's been tormented! Her summer was really hard and no one reached out to her! Not to be outdone in voice modulation or plays for sympathy, NeNe countered back with how hard HER summer has been! Planning a million-dollar wedding with a man you barely tolerate is really hard, you guys! She tries to scoot away on her six-inch heels, but her footwear is making her walk so slow that Kenya easily sidles up to her like a nightmare on legs and grills her about why she invited Walter to the wedding. NeNe reminds her that she will do whatever she pleases whenever she wants, but Kenya, afraid that she's not getting through, reaches out and grabs NeNe's ear to make sure she is listening! For all intents and purposes, her hand should have shriveled up like a prune and turned to dust instantly, but NeNe had mercy on her and instead told her to get a new catchphrase as Kenya nicely reminded NeNe she could go to hell.

What's going to happen next week? Will Porsha debut another wig? Is this the week Kandi "drags someone in this bitch"? I think this is going to be the best season yet.