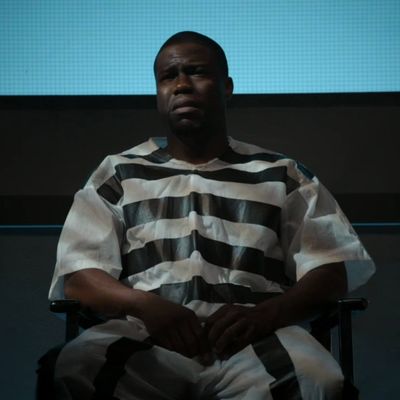 Last night's edition of The Real Husbands of Hollywood reminded me a lot of Lil' Kim's music in 2013: confusing, sad, and devoid of every single quality that made it work to begin with.
In this episode, Nadine Velazquez (or, as described on the show, "the naked girl from Flight") played the role of the crazy-ass woman Kevin Hart met on a dating site called Too Famous to Date. I didn't see Flight, so I initially just assumed there was a casting call for a woman who looked like Sofia Vergara's little sister. My bad, Nadine. Shout out to you and your stacked IMDb page.
Anyway, the show opens with these two on their date. Nadine is pretty, attentive, and trying to get to know Kevin better. Kevin is being Kevin — self-involved, prickish, and the type of person roasted on sites like dontdatehimgirl.com. The relatively mundane date takes a turn for the, uh, better when Kevin heads to the bathroom. He leaves his phone, his ex-wife calls, which Nadine notices and flies into a jealous rage over.
She storms into the bathroom shouting, "Who the hell is this skank?" Nadine wastes no time in jacking Kevin up. Hell, she didn't even let him shake off the excess pee in the urinal before attacking him. As Kevin tries to calm her down, Nadine is suddenly turned on and subsequently shoves him into a stall. One assumes they're having sex despite the fact that Kevin is standing behind her and jumping up and down as she commands "JUMP, BABY!" Since quoting things from the nineties, I'd like to say when it comes to that sex scene, "Ain't My Type of Hype." But you know, no judgment round these parts. Do you, and screw as you please, Kevo.
Speaking of the sex, Nadine shows up at Kevin's house unannounced while his friends are there and demands more sex posthaste. I noticed that she was wearing the same dress from the night before. People, is a woman still sexy if she doesn't bathe, or at the very least, apply a lot of Febreeze?
The answer did not matter to Kevin, as he made clear: "The past five days have been the best days of my life. This is the best sex I've ever had. Left hand, you are fired."
After a while, though, Kevin becomes afraid of Nadine. He considers her a stalker and the two wind up in jail trying to out-blame the other. Kevin says Nadine is crazy while Nadine paints him as a panties-stealing pervert. Then comes the show's homage to Basic Instinct, in which a panties-less Nadine gives a few seconds of provocation to an appreciative group of police investigators. Kevin provides his own interpretation, too.
None of it works for me.
Basic Instinct is a great movie, but given that it's old enough to buy a whiskey sour and a case of the Nicki Minaj–backed Myx Fusions moscato, maybe we can finally stop satirizing it and find something new to spoof? All praises due to Sharon Stone and her infamous leg cross in the film, but Real Husbands of Hollywood should be making fun of NeNe Leakes and Joseline Hernandez, not her. After all, such is the sort of reality show skewering that got RHOH upgraded from BET Awards sketch to BET original comedy. I'm all for diversity, but not so much diverting too much away from the original premise.
Much of yesterday's show seemed to be a waste of talent. Enter the show's B story, Faizon Love vs. JB Smoove. Faizon is happy to be invited to JB's hot Jacuzzi party, only to be informed that he was invited because his belly size rivals that of Chris Christie's. So they have a fitness challenge because I suppose that's funny in "I've seen this in so many different sitcoms from the last twenty years" fashion.
To wit, Faizon Love knocks Nadine to the ground. She angrily climbs his back only to end up yelling, "You are so sexy." My, my: how unexpected.
Like, poke fun at the clichés, y'all, don't perpetuate them with your story line. I guess Faizon Love won the lil fitness challenge, but the episode lost overall and that's what counts. Let's hope it's in sharper form next week.
Other notes:
LOLs to Kevin Hart for his height-defying logic: "I'm like one of those objects in your rearview memory: I'm much larger than I seem."
During narration, Kevin named all of the places they've had sex, including "her church, my Church's Chicken." I grew up around the corner from a Church's Chicken in Houston. That line made me homesick and hungry for gravy.
Hated the story line altogether, but did laugh at Kevin telling Nadine during their breakup: "I want to take a walk in slippers and put my hand in your back pocket. I want you to give me a piggyback ride. These are things that mean love, and right now all you care about is my sugar pole." If this ends up in a future Drake song, you now know what will have inspired the lyrics.