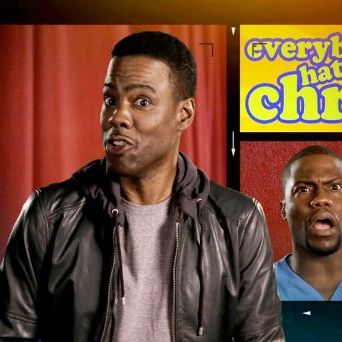 Some of us would like to pretend we've reached our Beyoncé — i.e., the pinnacle of our professional careers — but thankfully, there are people who can bring us down to earth and let us know that we're actually just Kelly Rowland enjoying a good quarter.
For Kevin Hart, Chris Rock served as that reality check. The comedy legend was the guest star on this week's episode of Real Husbands of Hollywood. From the jump, Chris made it clear that he is the Mufasa to Kevin's young Simba. By the way, rest in peace, Mufasa. I continue to mourn your tragic death at the hands of that mean queen Scar.
Chris launched the show by declaring, "Everybody knows me. I don't even have to explain who I am. When I show up, people just go [hand clap], 'He's here!'" He added, "I'm like channel four and Kevin is Twitter. Twitter is big, but it ain't CBS." Can someone relay this message to those Twitter users way too into their follower counts?
Chris was there to propose a joint tour with Kevin Hart. The choice for headliner seemed obvious to everyone not named Kevin Hart. Perhaps it was the way Chris proposed the tour to Kevin: "You been begging to go on the road for years, man, but now that you're finally funny, we should do it."
Kevin shot back, "I don't like to say it, but some people said I was funnier than you." Not having it, Chris quickly dismissed such chatter with, "You know, even that's funny right there. That's why we're going to sell out arenas all over the world."
Prospective tour names followed. Chris Rock suggested "The Chris Rock World Tour introducing Kevin Hart." Kevin Hart countered with "Kevin Hart World Tour resurrecting Chris Rock." According to Kevin, the name fits "because I thought you was dead, man."
Then came that talking point I hate so much. Chris relayed to Kevin: "What you gotta understand is I'm actually famous, you're more Black famous. I host the Oscars, you hosted the Roscoes. I'm famous in Beverly Hills, you're famous at the Fox Hills Mall." I hate the Fox Hills Mall, but the Beverly Center isn't that great either.
Even if said in jest, that's a sentiment I hear all the time. Funny enough, it's one criticism leveled at this show. Even though ratings for Real Husbands of Hollywood have bested shows on rivaling networks and even comedy shows on broadcast networks, the show doesn't garner a whole lot of mainstream media attention. It's not hard to figure out why. Black famous.
In any event, Chris truly is the bigger star, and bless Kevin Hart's heart, he wants to pretend he's sharing the same stage. So when Chris introduces Kevin to his idea of "endorsement" — being so big a star that he can just essentially steal things and skip out on bills and businesses will consider it a treat just to bask in his A-list presence — Kevin plays copycat.
It was like watching Cassie or Ciara perform Janet Jackson classics. Or, well, Lindsay Lohan's past attempts at "endorsement."
Kevin ultimately learns his lesson. After watching Chris Rock stop a car with one hand and take control of it with a single command, Kevin follows suit. Unfortunately for him, he ended up getting run over by an Escalade. As for that bill he skipped out on à la Chris Rock, while lying on his back in pain, the waiter asks him to pull out his cash and pay what he owes.
Meanwhile, Kevin's assistant, Oliver, tried his hand at comedy. He's about as funny as a panic attack during a job interview, but at least he tried. Well, sort of. Sample joke: "How fine is Rihanna? Forehead and all. That's just more Rihanna for me."
Rihanna jokes are so 2005. To quote Nicki Minaj, "Step ya cookies up." In fact, if you want to crack a Rihanna joke, troll Chris Brown's on-again, off-again girlfriend and Rihanna adversary Karreuche Tran's Twitter's page.
Kevin was not as impressed with his assistant's attempt at comedy either, saying in his confessional: "You know it kills me how people always wanna disrespect our art. I mean, this the only profession everyone assumes they can do. You don't see people walk into the operating room saying, 'Hey, doc. Gimme five minutes, Imma kill.'" It never happens. It always happens in comedy, though."
The same goes for writing. Kevin, you can't hear me, but I'm applauding. Hard.
Other notes:
Anthony Anderson made a guest appearance and had one of my favorite lines when he told Kevin not to ruin fellow guest star and show creator Chris Spencer's reminiscing of 1997. Anthony said, "Kev, Kev don't say shit, man. This is the only four months of his career that he has to talk about. Let him live." That's when Chris hosted the late-night talk show VIBE (as in the magazine). I'm one of seven people who remember that show. Not that it's worth remembering, though.
Chris Spencer telling Kevin Hart: "You're not a star, you're popular. You're like the homecoming king, they'll be another n***a next year." As the runner-up for homecoming king, that's true tea.
Kevin Hart to Chris Rock: "Right now you're actually the third biggest Chris and you're the second biggest Rock. I love Tony." Tony Rock is co-hosting the revamped Showtime at the Apollo on BET's sister network. Look at the company love.
Chris Rock to Kevin Hart:  "I'm big, you're hot. I'm like Prince, you're like Trey Songz." Line of the night, of course.