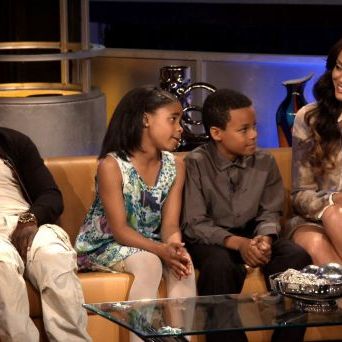 If you compare last night's episode of Real Husbands of Hollywood to the band New Edition, then Bobby Brown was Bobby Brown and Kevin Hart was Ronnie, Ricky, or Mike. As in, firmly in the background. Not to say Kevin was bad, but BBD has nothing on Bobby Brown. Plus, now that Whitney Houston is presumably in heaven pushing Michael Jackson out as a soloist in Heaven's Soul Choir, someone's got to be Bobby's champion down here. With that in mind, I'd like to first focus on the Kang of R&B portion of the program.
FYI: I'm listening to Bobby Brown: The Definitive Collection while writing this.
So Bobby was back on the show to focus on his seventh or eight comeback attempt. If you recall, on a previous episode he was working with Nelly on new tracks. However, Bobby brought in new producer Roccstar – who has worked with Rihanna, Chris Brown, and One Direction – to spice up the music. Nelly seemed puzzled that a producer with such clout would be working with a guy who hasn't had a hit since … uh, 1992's "Good Enough." Before you even ask, no, it wasn't Ja Rule's 2002 single "Thug Lovin'," which featured Bobbi Kristina's daddy. I checked.
Bobby Brown refuses to be tossed into the urban-adult-contemporary category, insisting that, "The king used to be a teen idol." Nelly tries to offer a reality check, but since Bobby's credit probably hasn't been right since the late nineties, he didn't bother cashing it. Fixated on going back to his glory days as a young heartthrob, Bobby cancels his performance on Damn, It's Late With Wayne Brady.
A reinvigorated Mr. Brown exclaimed, "Well, the king is back, baby. I just booked 106 & Park. Whew!"
If First Lady Michelle Obama can go on 106 & Park this week and shout out to POTUS's swag, why can't the King of R&B make an appearance? And so he did at the conclusion of the show, giving the children an "uncle who wants to follow the kids to the club after Thanksgiving dinner" realness.
(Even if unintentional, I couldn't help but think of R. Kelly the entire time. R. Kelly had already been trucking along thanks to his ridiculous "Trapped in the Closet" video series, but as of late the likes of Justin Bieber, Bruno Mars, and Lady Gaga have tapped him for collaborations, which only further emboldens his quest to remain forever young despite being old as hell.)
As for Kevin Hart, once again he was trying to get to know Nick Cannon's ex-fiancé, model and actress Selita Ebanks. During a segment called "Celebrity Love Do Over" on Damn, It's Late With Wayne Brady, a reluctant Selita agreed to give Kevin another chance. Thing is, before Selita showed up to his house for dinner and wine, Kevin had his other date, Charmagne there.
During that date, we learned interesting facts about Charmagne, like how she refuses to drink any wine besides moscato. If you give her anything else – say, a nice Malbec – she'll assume you're trying to poison her. And when trying to alert her to the reality that moscato is a dessert wine, she'll just roll her eyes – a nonverbal way of saying, "Shut your ass up and pour what I asked for."
It's all Drake's fault for making his listeners fall so hard for moscato, but I'm not judging those who drink dessert wine with Buffalo wings. After all, the Nicki Minaj–backed Myx Fusions moscato is quite tasty.
Anyhow, Charmagne decides to go to the liquor store to get her beloved bottle of moscato since the server left her hanging. Of course, Selita appears "surprisingly" right after that. Kevin calls the police to say the car he lent Charmagne was stolen – wink, wink – so he gets one-on-one time with Selita.
Naturally, Charmagne reappears and the two give Kevin some options.
"(a) We can leave peacefully."
"(b) We can beat the shit out of him."
Instead, they leave with the server-chef-wine-pourer. Selita instructs Kevin not to speak to her again, so he goes to Nick Cannon for advice on how to win her back. Nick reveals Selita has a soft spot for disadvantaged youth, prompting Kevin to hire the two lil bad kids who stole from people at the charity event Wanda Sykes held at his home weeks ago.
Kevin tells Selita that they met the kids around the time of Hurricane Katrina. "They were floating on a Best Buy box. I saved their lives," he explains. It works temporarily, and by the time the two are back on Wayne Brady's couch for an update, Selita and Kevin look inseparable.
But – aha! – Wayne trots out the stiffed kids in question and they threaten to expose Kevin if they don't get payment. He slides them cash, so one half of the duo declares in front of the audience, "He's truly my Barack Obama." That is quite the compliment in the black community. Another good one is, "You're like Olivia Pope on the day she realizes she can do better than Fitz." The best is the obvious: "You're like Beyoncé."
So yeah, Kevin and Selita are lovey-dovey by the end of the episode, but I imagine you now understand why I led with Bobby Brown.
Other Notes:
David Faustino was there, but all he did was sit there and say "mitch," which is this show's variation of bitch. They really want fetch to happen with that, but I don't see it.
When Kevin's lawyer told him he was 30 minutes late to Wayne Brady's set, he said, "I'm black early." When Nelly informed Bobby that he was 90 minutes behind schedule, he corrected him, noting, "The king is never late, you're just unnecessarily early." Stealing both.
Kevin telling Nick Cannon, "You know exactly what I'm talking about Nick-ah." Only a handful of y'all can say that last part out loud. Sorry.