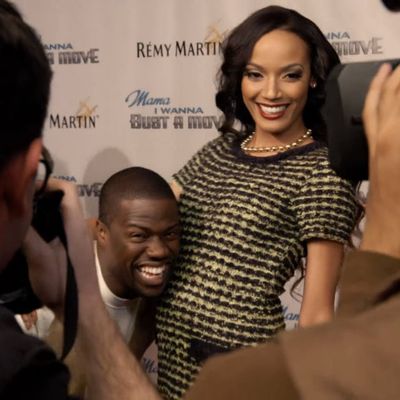 Most men would push their sister into traffic for the chance to impregnate a Victoria's Secret model, but throughout last night's episode of Real Husbands of Hollywood Kevin Hart exhibited buyer's remorse for not purchasing condoms in bulk. Perhaps that has something to do with the reality that Selita Ebanks is not as sexy when downing chocolate syrup like she knows diabetes is expecting her and she simply can't keep fate waiting any longer. Kevin's displeasure about another baby intensified once Selita demanded he skip out on a potential meeting to host the Oscars in favor of attending a parenting class that included him wearing a mock bra that can lactate. The idea of that nifty little invention is to allow mommy to nap while dually still nursing the baby — only by way of papa's bra strap.
Ultimately, Kevin hit Selita with the truth about not wanting another "damn baby" only to scurry away to a barbershop where he would proceed to totally break down in regret in a room full of men, Terry Crews include. While Kevin let the water leak from his eye sockets, I found myself scratching my head trying to figure out why any of this was happening and who found it amusing?
If I had to break down my reaction to this overly complicated and highly implausible chain of events with two words, I'd go with one of my favorite phrase: "Girl, what?" I honestly have no idea what prompted Real Husbands of Hollywood writers to not only make Selita and Kevin a couple, but expectant parents. Judging from last night's episode, neither do they.
This show is supposed to be an exercise in satire and improv, which makes absurdity not only expected, but also welcomed. So if you're going to make Kevin Hart and Selita Ebanks a couple, dub them "Kevlita," and have them be the latest incarnation of increasingly nauseating trend that is obsessing over celebrity procreation, why not have more fun with it? Why not make more fun of KimYe? Yes, the "Bound 2" video did a wonderful job of highlighting the hilarity of Kanye West and Kim Kardashian's relationship, but that wasn't on purpose so it doesn't count. It wasn't until the very end that Duane Martin was used as a means to illustrate how quickly contemporary stars will flip a fetus into a fortune-building exercise – à la the proposed Kevlita.com boy-or-girl sweepstakes.
There was also the big reveal: Selita is faking her pregnancy. Duane discovered Selita's baby bump was crooked after a riot occurred following Kevin exposing Boris Kodjoe in more ways than one during opening night of Boris's new play, I Wanna Bust a Move.
While this episode didn't toy with the celebrity baby industry enough, hopefully once Kevin finds out about Selita's fake fetus the show will poke fun at all of the ridiculous people who still believe Beyoncé had a surrogate supplied by Satan. Yes, these people still exist. You can find them floundering in the depths of hell know as the comments section of any gossip blog. There's also purgatory, which is the virtual space YouTube has created for the online prophets of the world.
As for that play, RHOH sort of made fun of that genre of Black stage plays that have birthed works such as "Mama I Want to Sing," the new Kandi Burruss play A Mother's Love, and Tyler Perry's entire existence. It was evident that the play's director tried to coerce singer Eric Benet into replaced the vocally challenged Boris Kodjoe when he said, "You don't have to be an actor to be in one of my plays. You just have to act like an actor."
Ditto for when Kevin Hart tried to walk back into the theater, only to be told by an usher that he had to wait until the act break. When Kevin asked how long that would be, the white usher said, "It's a black play … tomorrow." That was as much mocking as we got, though. Maybe some of the cast members didn't want to upset Tyler Perry. After all, Boris Kodjoe did play Frankie Henderson, the goodhearted bus driver with the bad toupee in Madea's Family Reunion. Perhaps Boris was fearful of potentially needing to play another handsome, big muscle-bound blue-collar worker that would save one of those caricatures of educated black women Tyler enjoys condemning in his works so much.
I'm unsure, but one thing is for certain: This show is supposed to be satirizing reality TV (and celebrity at large) and it's about time it goes back because it used to be so good at it. Also, more Tisha Campbell please.
That said, since this is a holiday week and positivity is all the rage (until actual rage takes over on the morning of Black Friday), I'll end on a high note: Kelly Rowland looked very pretty.
Other notes:
At one point Eric Benet claimed, "I used to have this foolproof way of getting rid of paparazzi." Kevin Hart said in response, "You talking about like divorcing Halle Berry?" I still miss Robin Thicke, but Eric is good for a few chuckles.
On Kevin Hart declaring, "Black people don't like Celine Dion." This is a lie. Ask R. Kelly, Ne-Yo, and all of the black folks who love "Because You Loved Me" and "My Heart Will Go On."
After Eric Benet declined a role in I Wanna Bust a Move by noting he was a Grammy-nominated artist, he was shut down with, "BUT YOU DID NOT WIN." Keep 'em honest.
In trying to make Kevin Hart feel better about telling Selita that he didn't want their (fake) baby, one dude revealed, "I told my girl I wanted a threesome. She brought a n***a home." Specificity is key.