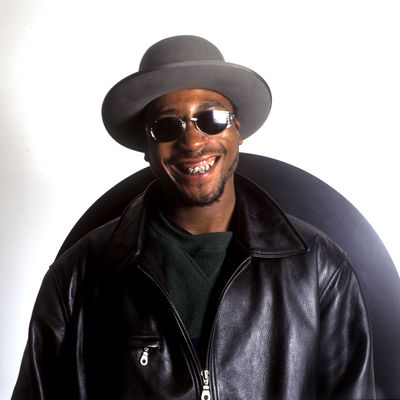 Photo: Bob Berg/1997 Bob Berg
Nine years after the death of Wu-Tang Clan co-founder Ol' Dirty Bastard, the entertainment world has yet to find an heir to his signature blend of unstable antics and verbal genius. Not in his son Barson, who fills in for his late father when the Wu performs live. Not in Odd Future or in Kendrick Lamar or in Danny Brown, three artists who, by comparison, have their shit way together. And certainly not in shock princess Miley Cyrus. No, ODB, was one of kind, and worthy of retrospection. Enter Dirty, a long-gestating documentary produced and directed by ODB's cousin Stephon Turner, a.k.a. Raison Allah, and featuring interviews with the Brooklyn hip-hop star's family, friends, and Wu-Tang compatriots. In honor of the man born Russell Jones and inspired by Turner's documentary — which will be shown this Friday, November 15, at the Brooklyn Academy of Music as part of the NuHo Film Festival — here are seven ways to remember Ol' Dirty Bastard, who would have been 45 this Friday.
ODB was a community organizer.
His first public protest came in the form of a hugely publicized and oft-cited visit to the welfare office in a stretch limo to get food stamps. This was interpreted as crass by many and considered a stunt by everyone else, but, at root, it was a sly statement on poverty, government inefficiency, and identity: "It's free money, why wouldn't you try and get free money?" ODB claimed his government assistance and pointed out that there was no shame in poverty and the reality that too many people have to deal with every day. To ODB, who came up in the projects, he was talking about a reality.
ODB was a serious Lothario, maybe not too good with boundaries, but an excellent companion for a slumber party.
According to his cousin and Wu-Tang collaborator RZA, Ol' Dirty Bastard tongue-kissed RZA's first girlfriend before RZA ever got a chance to. But RZA wasn't mad; he and ODB would "talk all night, for hours, until the morning, about the stars, the moon, the creation of man, the end of man." Later, when they were on tour, there would be hundreds of scantily clad groupies waiting for ODB to pick one (or two or three) to go backstage with him — possibly how ODB ended up fathering so many children (seven to thirteen of them, depending on whom you talk to).
ODB came from lofty lineage.
His great-great-grandfather on his paternal side was a chief in the Shinnecock Indian tribe of Long Island, and on his maternal grandmother's side he's related to an ex-slave turned Reverend who lived to be 103.
ODB had excellent taste in music, also fun on an eight-hour car ride.
The best thing about ODB crashing the Grammy stage was identifying a societal ill everyone was afraid to talk about: Puffy sucks. ODB put it in nicer, more diplomatic terms in his impromptu speech: "Puffy is good but Wu-Tang is the best." It was a clear indictment of the wack emcee who represented the polar opposite of ODB — overproduced, slickly hyped, and bland, regurgitated tracks vs. raw, unfiltered creative genius. Another sign of Dirt's good taste, on an eight-hour car ride with RZA from New York to Virginia Beach, ODB played "Good Morning Heartache" by Natalie Cole on loop. The entire ride.
ODB: paranoid or were they actually watching him?
Though Turner doesn't mention the lengthy FBI files on Wu-Tang and ODB specifically, he does get into the emcee's seriously outsize paranoia that the government was trying to kill him. Apparently, RZA bought him $50,000 worth of spy equipment, including camera glasses, FBI-caliber monitoring equipment, a phone scrambler, and a bulletproof vest that eventually led to his arrest in California, which eventually led to jail, which eventually led to his death. So he was right: The government killed ODB.
ODB may be dead, but his ghost still haunts hip-hop.
Ghostface Killah went back to the last place Dirt performed in Colorado and felt him onstage so vividly that he was moved to tears; ODB's young cousin channeled him with a Ouija board and he said, "Tell my mama I love her and I'm sorry"; and one of the emcees from Brooklyn Zu said that as he was getting into bed, the bed started moving and he believed it was ODB. And, of course, Rock the Bells commissioned, in an almost heretical move, an ODB hologram to perform this year. (A hologram to represent the most spontaneous, unpredictable, enigmatic emcee with flow that deviates and explodes in unexpected bursts of passion? A hologram? No.)
ODB had many monikers.
His most famous was inspired by the usually wizened Drunken Master character in Kung Fu movies. At various times, Ol' Dirty Bastard was also known as Ason Unique, Osiris, the Drunken Master Styles, Dirt Dog, Joe Bananas, Big Baby Jesus, and Dirt McGirt. However, his first emcee name ever was easily his best: the Wizard of Do It Land. All hail the Wizard of Do It Land! R.I.P.
Jaime Lowe is the author of Digging for Dirt: The Life and Death of ODB.