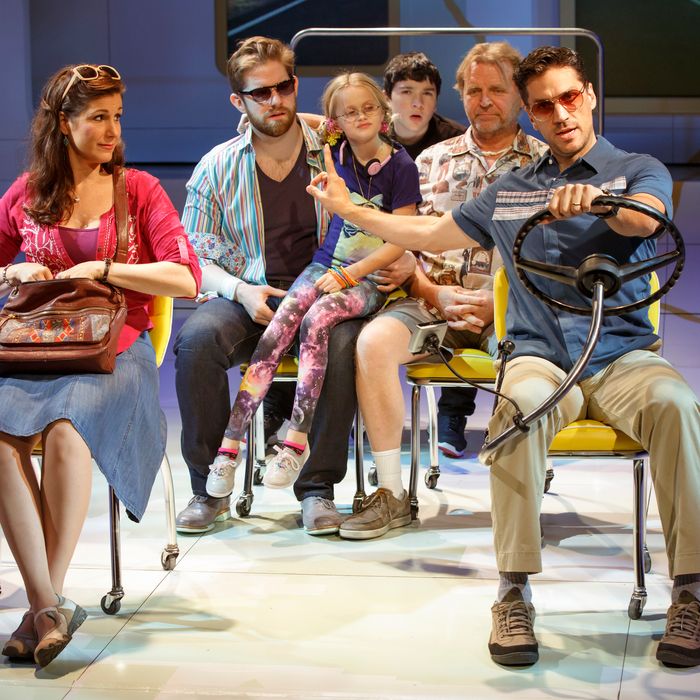 Little Miss Sunshine, the musical, at Second Stage.
Photo: ?2013 Joan Marcus/?2013, Joan Marcus
It's a classic critical gambit to damn a show with its own words. Musicals in particular seem susceptible: Last year's Scandalous was asking for it with a song called "How Could You?" Misbegotten revisals of Merrily We Roll Along will forever be tarred with the great Sondheim line "I liked it the way that it was." You would therefore think it too much of a known risk for the savvy authors of the new musical version of Little Miss Sunshine to open their show with a number whose theme is the inevitability of disappointment. "Underestimate everything," the lyric advises. "The key to contentment is to lower the bar."
As it happens, the song, called "The Way of the World," is terrific — a jaunty kvetch from that master of the form, William Finn. Would anyone else set the phrase "You will certainly fail" to such chirpy music? In the Falsettos musicals and The 25th Annual Putnam County Spelling Bee, Finn perfected a technique of pairing big abstractions ("life is pandemonium") with peppy marches, as if kindergarteners were singing Kant. The disjuncture between the plight of the characters and the amused tone of the songwriting kept the work in useful tension. And so it is with "The Way of the World," especially when the downerisms of the dysfunctional Hoover family are interrupted in order to spotlight the eupeptic protagonist, 10-year-old Olive, and her classic I want statement: "I would like to be / the first Miss America / from New Mexico."
Unfortunately, this efficient introduction to characters and conflict we may already know from the 2006 movie turns out to be the high point of the musical. For reasons that are hard to fathom considering Finn's skills and those of his longtime collaborator James Lapine, the air starts to leak out of the story immediately after the opening number's button. The first scene goes on for what seems like a songless eternity as the book dutifully fleshes out Olive's unemployed father, frazzled mother, randy-drug-addict grandfather, electively mute brother, and gay-Proust-scholar uncle, who is recovering from a suicide attempt after being jilted by his lover in favor of a competing gay Proust scholar.
This seems like it should have been good material for a musical — and it seems a lot like Spelling Bee, too. Aside from the reunion of Finn and Lapine and Second Stage, both shows center on a girl named Olive; in both, ambitious innocents learn that although (in Spelling Bee's words) America hates losers, the definition of "loser" is theirs to determine. But Little Miss Sunshine doesn't have the strength of Spelling Bee's convictions, or of its own source material. It's constantly making weak choices that upset the balance of sweet and sour. Grandpa in the movie is a dirty problem, not a benevolent codger; it's telling that his drug of choice has been changed from heroin to cocaine. And everything that is funny by its nature in the movie is played for broad laughs in the musical: a different thing entirely.
Even the clever minimalism of Spelling Bee has been reduced to cheapness here. This was partly inevitable: How could a stage production handle a story that mostly takes place inside a van as the Hoovers travel 800 miles from Albuquerque to Redondo Beach for the title pageant? And how, especially, could it re-create the key scene in which the family members must run alongside the malfunctioning wreck and jump into it one at a time? I'm sorry to say this is all done with yellow vinyl kitchen chairs on casters. Other than that, Beowulf Boritt's set has little to offer but seven projection screens, as if to highlight the fact that the show is not a movie. Even the orchestra is hidden somewhere, perhaps embarrassed.
By the time the uncle's ex-lover flounces onto the scene in his pink Izod polo shirt (gee, thanks for the clue, costume designer Jennifer Caprio) and the petty martinet of a pageant director shows up wearing a lacquered toupee that resembles a sea turtle, you realize that something disastrous has happened. It's systemic: the staging is awkward and full of holes, the choreography goes nowhere, and the cast barely registers. (I won't name them, as they've all been better elsewhere, even the ones who are making their debuts.) Most surprising, Finn's musical invention flags, at times leaving his melodies to flap on bald chord progressions like bits of laundry strung between poles. His lyrics, never models of subtlety, are even more opportunistic than usual, going where the rhymes point instead of making the rhymes point where he's going.
Even so, even here, no one gets at middle-class anomie with as sharp an appreciation for the poetic banalities of English as Finn. When Olive's mother, frustrated with marriage and life in general, sings "something better better happen" it's perfect for the character, for the moment — and the review.
*  *  *
If you were putting on a Sondheim revue, to whom but Bernadette Peters, 65 going on 30, would you assign the Merrily song that features the line "I liked it the way that it was"? In that regard, A Bed and a Chair — an Encores! "special event" — does not disappoint. Nor does it disappoint in much else. True, I heard some mutterers at last night's opening performance suggest that they, too, liked it the way it was: They preferred hearing Sondheim's songs as they've heard them so often before. But they can still have that; meanwhile, for a few days at least, the rest of us have the marvelous opportunity of hearing them new.
You might think that would be impossible by now. Even leaving aside old LPs, pirate videos, and cabaret acts, where a sampling of Sondheim is de rigueur, there have been at least four previous major revues of his work in New York: Side by Side by Sondheim (first produced in 1976), Marry Me a Little (1980), Putting It Together (1992), and Sondheim on Sondheim (2010). Each presented the canonical songs in musical formats that mostly attempted to replicate (and usually settled for simplifying) the originals. But A Bed and a Chair — presented by New York City Center and Jazz at Lincoln Center — is about as different from those revues as could be. Its purpose is in fact to complicate the received sound, much as Sondheim himself has done throughout his career by stepping away from the piano when he found his hands falling into familiar patterns.
The listener's ear can have the same problem — and interestingly, here, the same solution. A Bed and a Chair offers 24 songs, plus a medley of four more, in arrangements that replace the pianistic engine of the classic originals (most by Jonathan Tunick) with a new one made largely of brass and wood. Musical director Wynton Marsalis and four of his Jazz at Lincoln Center arrangers have reverse-engineered Sondheim into the Big Band sound of the pop-music era he once helped to sweep out of the theater. If that's a paradox, it somehow ends up a joyful one, often bringing to mind the 1950s exuberance of Frank Loesser and Jule Styne. On their own merits, the arrangements are stupendous, filled with swirling saxophones, talking trombones, and the brash warmth of untrammelled trumpets. As a way of awakening the ear to new possibilities in music you thought you knew too well, they are a once-in-a-lifetime gift.
In fact, were it not for the quality of the singers, and especially Peters, you might like to hear the 85-minute suite performed solely by the fifteen-man band, which includes Marsalis on lead trumpet and is conducted by David Loud. But the Encores! idea— influenced by the success of its Cotton Club Revue, which recently opened on Broadway as After Midnight—was more ambitious. The director John Doyle was asked to build a song sequence and create a staging that would pay tribute not only to the composer but also to his city. (The show's subtitle is A New York Love Affair.) To this end Doyle sketched four romantically interlocking figures: a nervous newcomer armed with irony (the French-Dominican jazz chanteuse Cyrille Aimée); a young man-about-town (the Smash hunk Jeremy Jordan); an eligible but noncommittal middle-aged bachelor (the Broadway singer Norm Lewis); and a cougarish survivor (guess who). Each is trailed by a silent double, not representing a former self as in Follies but rather a dancier self who demonstrates in movement what is otherwise merely sung. This is pretty, but entirely unnecessary, as Sondheim's lyrics are already so full of doubleness and depth.
With no dialogue, and only the barest suggestion of a scenario, it's left to the songs to turn these types into characters, which they succeed in doing at least while they're sung. After the overture (a fantastic remake of Merrily's) each of the stars gets a center-stage defining number: the giddy "What More Do I Need?" for Aimée; the cynical "Another Hundred People" for Jordan; the contemplative "So Many People" for Lewis; and for Peters, inevitably, "Broadway Baby," which she proceeds to knock to the back of the hall with a fat, satisfying thwack. But then, she does that in each of her five or six at-bats, including a sexed-up "Isn't He Something!" from Road Show and a climactic "Ladies Who Lunch." Entered from an odd, unexpected angle, her rendition, much sadder than Elaine Stritch's, both acknowledges and dismisses the originator of the song as if she were a woman seen at a party in exactly the same dress. Not that you'd ever find Stritch in the ruched fuchsia number Peters almost wears.
Diva heaven, yes, but it needs to be said what a wrenching (and funny) actress Peters remains, not on top of her voice but through it. You can see the others working hard to match that quality in their best moments. Lewis, a recent Porgy, not surprisingly offers a triple-crème "Loving You" from Passion. Aimée, whose voice has the lightness and agility (if not the depth) of early Ella Fitzgerald, makes the most of "Live Alone and Like It" (from Dick Tracy) and a wittily scatted "You Could Drive a Person Crazy." Jordan shines in "Someone Is Waiting" and a version of "Giants in the Sky" from Into the Woods, here retooled to reference the Chrysler building and its ilk.
Not every idea, musically or otherwise, is successful. Those skyscrapers appear among the images projected behind the bandstand throughout; the photos mostly look like postcards and are often too literal. (A montage of street signs and park warnings accompanies the song "Everybody Says Don't.") With his staging options limited, Doyle resorts to a lot of apparently aimless walking and too much business with shoes and bags; did Encores! work out a deal with Prada? More frustratingly, applause is all but prevented after the songs because Doyle rarely lets them have "button" endings. The spartan title A Bed and a Chair — taken from the song "Broadway Baby" — was his idea.
But these quibbles don't much matter. Doyle himself calls his framework "just a fun hook upon which to hang this wonderful material." He's right on both counts. But A Bed and a Chair is also, dare I say, uplifting. In counteracting the tang of neurosis that has sometimes clung to Sondheim's songs from their original contexts, this generally muscular take suggests their great good health and permanence. If some that depend on theatrical tension (like "Losing My Mind") go limp when untrussed by the lighter arrangements, that's fascinating, not world-shaking. If others that never worked in the first place (like the Follies reject "Can That Boy Foxtrot!") still don't work in their new settings, that's an ear-opener too. The rest are in good shape for at least the next decade, if not century. And how delicious is it that Sondheim's biggest, perhaps only, hit, "Send in the Clowns," is consigned here to a wordless instrumental, led by, of all things, a bass clarinet — and works! Isn't it rich?
Little Miss Sunshine is at Second Stage Theater through December 15.
A Bed and a Chair is at City Center through November 17.