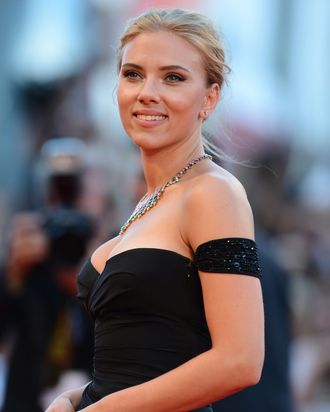 Actress Scarlett Johansson attends 'Under The Skin' Premiere during the 70th Venice International Film Festival at Palazzo del Cinema on September 3, 2013 in Venice, Italy.
Photo: Ian Gavan/Getty Images
While it's exciting that Scarlett Johansson was able to use only her sultry rasp to bring Her's titular character to life, The Hollywood Foreign Press Association decided that her vocal performance in Spike Jonze's latest film doesn't qualify for a Golden Globe. The Wrap reports that though nominations for the awards start next Wednesday — and, naturally, ScarJo would have liked to be considered in the Supporting Actress category — she'll have to rely on her work in Don Jon if she wants a Golden Globe this year. Fortunately, the newly engaged actress's voiceover is still eligible for a SAG and Oscar, so let the campaigning begin!