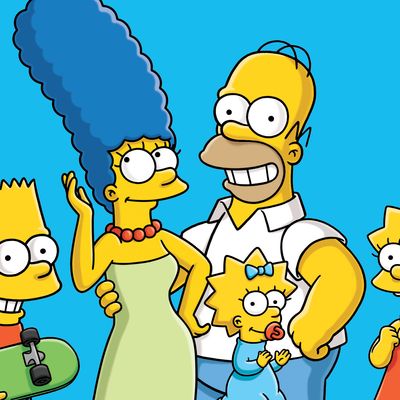 Photo: © 2013 FOX BROADCASING
Feel free to have a cow, man: FX spinoff FXX has struck a massive nine-figure deal that will (finally) make full seasons of The Simpsons available for online streaming and bring the 20th Century Fox TV–produced show to cable for the first time ever after years of broadcast syndication. The deal begins next August, when the recently launched FXX will begin airing the 530 episodes from the animated icon's first 24 seasons (most likely in heavy rotation, though there's no word on scheduling yet). At the same time, FXX will begin streaming The Simpsons on the soon-to-launch FXNOW mobile app, while also offering the show via video on demand. While Fox currently lets viewers catch up on a handful of episodes from the current season, past seasons of The Simpsons have never been available for streaming on a Netflix- or Amazon Prime–like service. There had been much competition for these long-elusive cable rights, and FXX and 20th (both owned by Rupert Murdoch) took the unusual step of sending out a press release that their agreement "is believed to be the be the biggest [syndication] deal ever" for a TV show.
Before getting into the financials, it's worth looking at how this agreement will affect how viewers get The Simpsons. By paying so much for the show, FXX has taken The Simpsons off the subscription VOD market: It's unlikely the show will be popping up in your Netflix or Hulu queue anytime this decade. What is likely, however, is that you'll have to watch ads if you want to binge-watch a full season of The Simpsons on FXNOW. FX chief John Landgraf is very much committed to the model of advertiser-supported TV, and FXNOW is designed to be available only to viewers who already have a subscription to FX via their cable or satellite company. It's possible, of course, that FX might make FXX available as a stand-alone service or offer commercial-free viewing for a premium. But if so, it would seem to mark a big departure from Landgraf's philosophy. An FX rep declined to comment on specifics surrounding The Simpsons' arrival on FXNOW, including whether or not all 24 seasons will be offered to consumers at once. (FXX has the right to do so if it wants.) Expect the network to reveal more specifics next month at a launch event for the app.
This agreement is also huge for the future of the FXX linear network, which has gotten off to a mixed start since rolling out this summer. While new episodes of It's Always Sunny in Philadelphia and The League have done generally solid numbers, the move of W. Kamau Bell's talk show to FXX proved a disaster and resulted in its early demise. FXX also took a hit last week when it was announced that the network's first original series, Chozen, would instead air on sister network FX. But with The Simpsons deal, FXX's future suddenly looks a lot rosier. While there's no guarantee The Simpsons will be a ratings monster, it seems likely it will give the network a giant buzz lift and do at least solid numbers. Repeats of The Simpsons have been airing on hundreds of TV stations across the U.S. since the mid-nineties and can still pull in solid ratings (or else the show wouldn't still be airing in great time slots such as 11 p.m. and 7 p.m. in big cities). And though this article will likely be met with the usual reflexively derisive comments of "I haven't watched the show in years," new episodes of The Simpsons still do well for Fox, with the show still sometimes winning its 8 p.m. Sunday timeslot and often pulling in bigger same-day ratings than younger comedy hits such as New Girls. It's not hard to see FXX building theme nights, weeks and blocks around various clusters of The Simpsons episodes. TV industry insiders have wondered aloud for years whether or not Murdoch might just create a whole network devoted to The Simpsons; FXX will not be that … but it will probably be close. (Get ready for the animated spinoff, It's Always Sunny in Springfield!)
While neither FXX nor 20th would discuss exactly what they meant by "biggest [syndication] deal ever," an industry insider familiar with the negotiations tells Vulture that the hefty price tag was "driven by [the] incredibly high count of episodes" of the show. In other words, The Simpsons, in syndication for twenty years, very likely did not surpass the $1.7 million to $2 million per episode that shows such as The Big Bang Theory, 2 Broke Girls, and Modern Family have fetched in cable syndication. But those shows are likely to end their runs with, at most, 250 or so episodes in the can. By contrast, FXX has bought at least 574 half-hours of The Simpsons (530 from the first 24 seasons, plus 44 from the current season plus the already-ordered season 26). What's more, the deal gets bigger if Fox orders more seasons beyond 27, since FXX has the rights to those possible seasons, too. So even if The Simpsons sold for a more modest sum of say, "only"  $1.1 million per episode, it doesn't seem a stretch for 20th and FXX to boast about the size of this deal.
Also, while it might seem that FXX had the inside track on landing The Simpsons for cable and syndication, it's not that simple because a slew of outside parties — including Matt Groening, James L. Brooks, and the show's voice actors — all have financial stakes in the show. That doesn't give them veto power regarding where the show ends up, but it does mean that if any of them thought FXX got a sweetheart deal, they could very easily sue 20th for not getting fair market value for the show. This is why 20th shopped The Simpsons to various cable groups, generating what a press release called "a vigorous bidding war" for the show and what Landgraf called "a very long, hard and complicated negotiation." Indeed, TV Guide reported all the way back in July that 20th was about to start taking bids for The Simpsons, likely making this deal a months-in-the-making ordeal.